James Foad: 'We rowed to best ability' to win European gold
Last updated on .From the section Rowing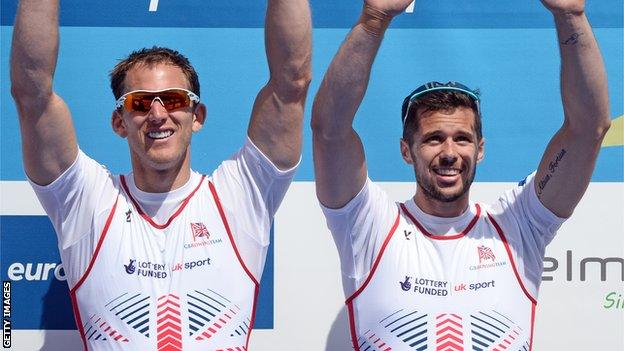 Southampton's James Foad has said he and Matt Langridge had to "row to their best ability" to win men's pair gold at the European Rowing Championships.
They held off the French pair to become champions in Poland, six weeks after Foad had broken a bone in his foot.
"We were only going to get that opportunity [to win] if we rowed to our best ability, and we just about did that," Foad told BBC Sport.
"It was good to put in a performance like that, and get in front."
The men's pair was one of six Great Britain boats to clinch gold medals in Poznan.
Foad, who is part of the Itchen Imperial club, took home a bronze medal in the men's eight at the London 2012 Olympics.
The 28-year-old missed the final trials and a couple of weeks of training leading into the Championships because of his foot injury.
"It would be an exaggeration to say it was a broken leg," said Foad.
"We didn't put any expectations on ourselves, given the last few weeks, but we came here knowing we had a good opportunity."