World Cup rowing: Richard Chambers clinches bronze in Italy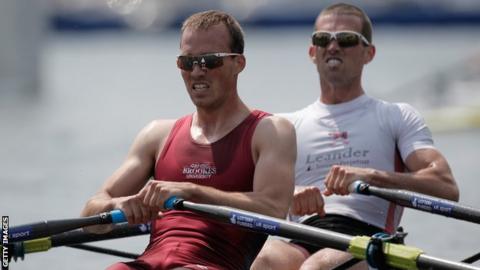 Coleraine's Richard Chambers and Englishman Will Fletcher clinched lightweight double sculls bronze at the World Cup regatta in Varese.
Richard's brother Peter and another Coleraine man rower Joel Cassells were part of the GB boat that took fourth in the lightweight four final.
London 2012 bronze medallist Alan Campbell was fifth in the men's single sculls final in Italy.
Chambers and Fletcher finished behind France and Italy in their final.
The British pair went with the French European champions Stany Delayre and Jeremie Azou through the first 500m but lost ground during the middle part of the race.
Italy moved through into second place as Chambers and Fletcher began to struggle but they held off the Americans to claim their second medal of the season.
In the final of the lightweight four the GB crew were never higher than fourth at any of the timing markers throughout the race and for the second regatta in a row finished outside of the medals.
New Zealand took gold ahead of Switzerland and once again the combination in the GB boat may be changed ahead of the final World Cup regatta in Lucerne in three weeks.
Campbell was making his 2015 competitive debut this weekend after recovering from injury that caused him to miss a month's training as he produced a creditable performance in his fourth race in three days.
In finishing fifth he claimed the scalp of European champion Darin Martin from Croatia in a race won by London Olympics gold medallist New Zealander Mahe Drysdale.