Team GB rowers 'strongest' Phelan Hill has seen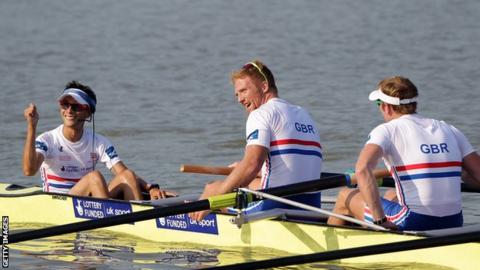 Olympic bronze medallist Phelan Hill says the current British rowing team is the best he has been part of.
Bedford's Hill, 35, coxed the men's eight to third at London 2012 but missed out on selection for the World Cup in Italy.
The eight, coxed by Henry Fieldman, won one of five British golds as Team GB topped the medal table with 10.
"I'm coming up to eight years in the team and certainly this is the strongest we've ever had," said Hill.
He told BBC Three Counties Radio: "Because you know other boats are doing well, it feeds your own confidence and beliefs.
"You're on the start line and only an hour ago you've seen the quad win gold. That gives you confidence because you know in training you've been very competitive against them.
"It just spurs everyone on to maximise their potential, and you know that if you're not delivering the goods there's someone else trying to take your seat."
And despite his position in the boat being under threat for the Rio Olympics next year, Hill believes the competition within the team is fruitful.
"While we've got the external competition of other nations, internal competition keeps you on your toes and challenges your views on where you are," he added.
"It also makes you think about what you can do to add that 1%. Henry is a very, very good cox, so having the pressure of him breathing down my back is good for me.
"It keeps me thinking and makes me look at where I can improve. It is all just beneficial in making the boat faster at the end of the day."