Anna Watkins: London 2012 gold medallist makes rowing return
By Richard Winton
BBC Sport
Last updated on .From the section Rowing
London 2012 gold medallist Anna Watkins is back in training with a view to qualifying for the Rio Olympics - five months after having her second baby.
However she has been on the water since April, hoping to make a comeback.
"I want to see what this old, clapped-out, two-babies body is capable of," the 32-year-old told BBC Sport.
"I initially just wanted to get fit and feel like myself again but the lure of the Olympics was just too strong."
Reprising relations
Scot Grainger came out of retirement in September 2014 and won bronze in the double sculls with Vicky Thornley at the European Championship in May.
That duo will team up again in September's World Championships and Watkins acknowledged that reprising their gold-medal winning partnership before Rio is far from a given, despite their stellar record of being unbeaten in each of their 23 races between 2010 and 2012.
"It's been made pretty clear that there will be no special treatment," she said.
"Just because Katherine and I were successful before, it doesn't mean we will be automatically given preference again, especially as I have no history over the past few years. I have to prove myself."
Watkins' wins

Olympic Games:

One gold (double scull, London 2012), one bronze (double scull, Beijing 2008)

World Championships:

Two golds (double scull, 2010 & 2011); one silver (double scull, 2009); one bronze (double scull, 2007)

2012 World Cup:

Three golds (double scull)

GB senior trials (single scull):

First (2011) & second (2012)
Competing after childbirth
Watkins says her performances could be "anywhere between better than London and utterly dismal" but concedes she is seduced by the idea of becoming the first rower to represent Britain at an Olympics after becoming a mother.
"I cannot go into this with a gold or bust mentality because bust is a realistic outcome. I have to be prepared for that," said Watkins.
"The golden scenario - that it all comes good and Katherine and I get to defend the title - is great but there's no pressure, in a nice way, and that's quite liberating.
"I'm sure I'll care pretty seriously about the results when it comes to it but just now I can just enjoy it."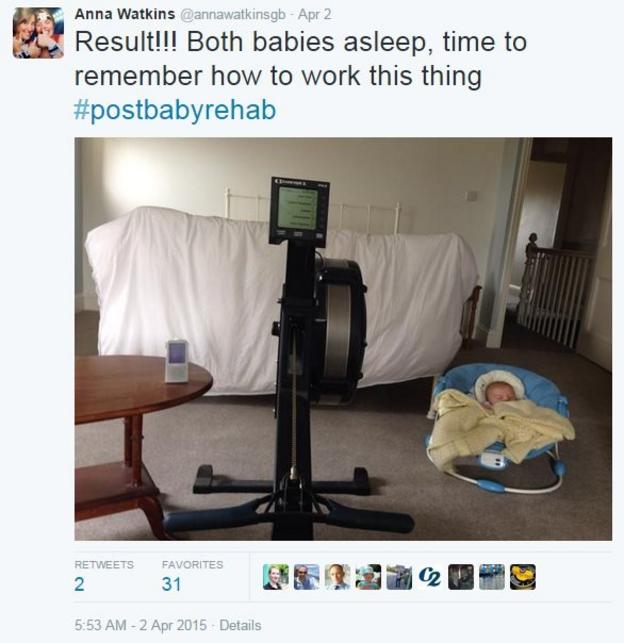 Back in the grind
Watkins acknowledges that it is easier to find that enjoyment in the summer months and outside the competitive environment of the national squad.
Training alone allows her to plan her own schedule around sons William and Richard but that will all change once she returns to the grind of dawn sessions and training camps abroad.
"I spoke to Katherine and she said that when she went on the first camp she woke up one morning and said 'oh my God, what the hell am I doing here?' and I'm sure I'll be the same," Watkins said.
"But this ridiculous idea has worked its way into my head and I know the chance isn't going to be on the table forever, so I want to give it a crack and see if I can pull it off."