World Rowing Cup: GB win four gold medals at first 2017 event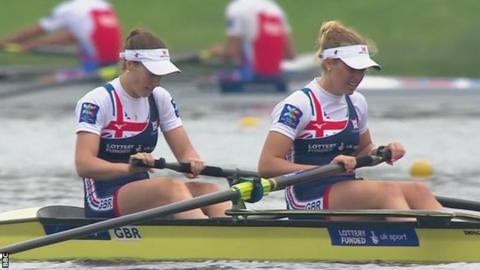 Great Britain won four gold medals at the first World Rowing Cup of the season in Belgrade, Serbia.
Peter Chambers and Will Fletcher won the men's double sculls, while Callum McBrierty, Matthew Tarrant, Mohamed Sbihi and William Satch triumphed in the men's four on Sava Lake.
Karen Bennett and Holly Norton won the women's pair and Jacob Dawson and Matthew Rossiter won the men's pair.
Britain secured 11 medals, including three silvers and four bronzes.
GB's men's eight suffered a shock defeat as they were beaten by 0.68 seconds by a Netherlands college crew.
"We had a few things to change between the heats and final," said Sbihi of the men's four.
"We had a good start, but the last kilometre we made it a bit more difficult for ourselves than we should have done. So far the boat has slotted together quite well. We will take things forward until the European Championships."
Bennett and Norton are a new pairing and put in a promising performance.
"We made sure we focused on our race plan that our coach gave us," said Norton.
"We had a few technical things to improve on from the race for lanes. It's a new combination and so next we are just focusing on the European Championships."
Elsewhere, Vicky Thornley finished second in the women's single sculls final and Ireland's Mark O'Donovan and Shane O'Driscoll won the lightweight men's pair final.
Analysis
Two-time Olympic champion James Cracknell
There's some good silver medals and there are some frustrating ones.
Although so many of the athletes have ended up on the podium, yes they have got a medal to take home with them, there will be different feelings about it.
The reality of it is that, with Germany, the United States, Australia and New Zealand not being here, there are big players to come back in and everybody will be aware of that.