British Rowing targets new fans with Power8 Sprints series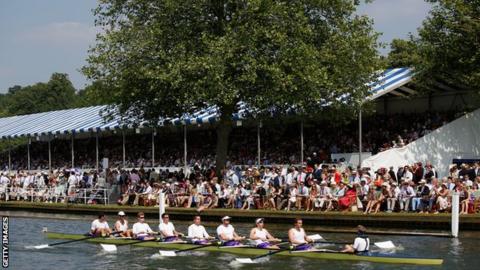 British Rowing is launching a "high-octane" race format it hopes can attract a new audience to the sport.
The Power8 Sprints will feature teams from eight cities competing against each other in races over 350m.
Each race will last about one minute, and British Rowing said the initiative would "bring rowing to sports fans like they've never experienced before".
Both men's and women's teams will take part in eights races, with the city teams formed from top club rowers.
Teams from Bristol, Cambridge, Exeter, London, Manchester, Newcastle, Nottingham and Oxford will take part.
They will race against against each other in a knockout competition format with the first event taking place at the Bristol Harbour Festival in July.
British Rowing plans to turn it into a three-event series next year as "part of a strategy to harness new formats to grow and develop the sport".
Chief executive officer Andy Parkinson added: "Power8 Sprints will entertain fans and showcase this awesome sport to a broader audience.
"We've been working over the past few years to develop opportunities that will help us to broaden the appeal of rowing and attract a new and more diverse audience.
"Power8 Sprints is a significant step in our ability to achieve this ambition."