Northern Ireland rower Joel Cassells quits Great Britain squad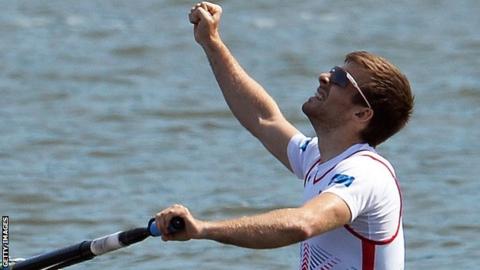 Northern Ireland's Joel Cassells has left the Great Britain senior squad after a disappointing single sculls display at last weekend's trials.
The decision to drop the lightweight four as an Olympics class was also a factor in the former world and European champion's decision to quit.
Cassells said: "It meant my dream of going to the Olympics was taken away.
"It became a big challenge to go for it in the sculling at trials, but I can walk away saying I've done my best."
The lightweight pair trials in in Caversham were held in single sculls with Coleraine's Cassells well off the pace in the competition for the two Olympic seats.
"There are two seats to go for and if you're not at the standard, then you can't justify being there anymore," he told WEROW.
His career highlight came in 2015 with a World Championship gold in France alongside Sam Scrimgeour in the lightweight pair.
"Going to that event I was completely unaware of whether we would come first or last," added Cassells.
"We came very open-minded and by the semi-final, we felt could do it. The final was such a magical row, I didn't even look at the Stroke Coach.
"We just had such free flow and effortless speed, it just happened. It was a magical regatta, a magical event - one that I will remember for the rest of my life."