World Rowing Cup: Great Britain take men's sculls gold at Lucerne event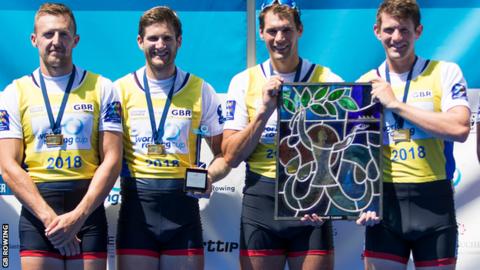 Great Britain's men's quadruple sculls won gold at the final World Rowing Cup meet of the summer in Lucerne.
The crew of John Collins, Jonny Walton, Graeme Thomas and Tom Barras were fourth at the halfway mark but rallied.
They held off a late Netherlands charge to win Great Britain's only race of the Lucerne event, which was the third and final one of the 2018 World Cup Series.
Germany won the Series on 130 points, with Netherlands second on 127 and Great Britain third overall on 104.
Brendan Purcell, British Rowing Director of Performance, said: "We can be pleased with the performances of the GB athletes out here in Lucerne, with seven of our eight crews finishing in the top 10, whilst recognising the areas for gain we can still strive for over the next few months.
"It was fantastic to see the quad take the gold medal today.
"I know they were disappointed when they didn't execute the potential performance level they wanted to in Linz, so it's great to see them refocus over the last three weeks and deliver today."
The GB squad for the European Rowing Championships will be announced at the National Training Centre in Caversham on Thursday 19 July.