2018 European Championships: Karen Bennett cherishes her rowing return to Glasgow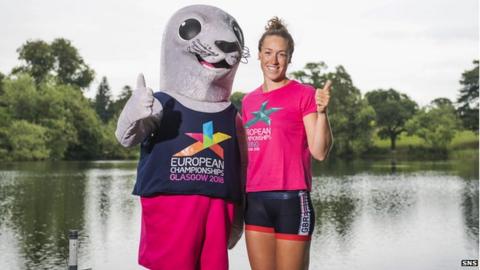 Karen Bennett is returning to where her passion for rowing began next month to compete in the European Championships.
The Rio 2016 Olympic silver medallist will be part of the British women's eight team at the event in North Lanarkshire.
"I literally took my first strokes at Strathclyde Park," Bennett said.
"I feel like I've done the full circle - I've been to the World Championships, the Olympics, but now it's really coming home for me."
Bennett is one of seven Scots in the 53-strong GB rowing squad who will compete in the inaugural multi-sport event from 2-12 August.
It brings together existing European Championships for athletics, aquatics, cycling, gymnastics, rowing and triathlon as well as a new golf team competition at Gleneagles.
While hopeful competing for major honours on home soil will rally rowing supporters, Bennett believes the tournament is a chance for her team to state their intentions on an international scale.
"A lot of our opponents are outside of Europe - the Americans, the Canadians and the Kiwis - so we want to go there and get a gold medal in the Europeans to put our mark out there," she explained.
"Then we know we've only got to beat a few more countries if we want to go to the World Championships and get a gold medal there.
"It's really important that we use this as a building block for the rest of the season so we're excited to get out there and race and see where we are."