Greg Rutherford: Former world long jump champion gets British Rowing invite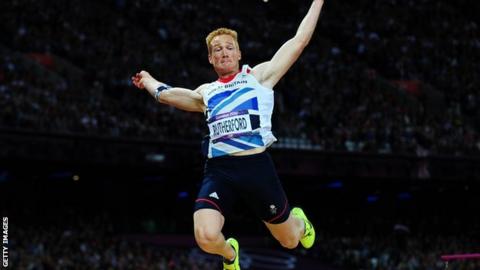 British former long jumper Greg Rutherford has been invited to take part in the British Indoor Rowing Championships on Saturday, 8 December.
The move comes after Rutherford, who won Olympic gold in 2012, took part in tests which "identify non-rowers who have Olympic podium potential".
The 32-year-old retired from athletics in September.
"Entries close on Wednesday, so we shall see if Greg accepts the invite," said a British Rowing spokesperson.
"During his afternoon with the GB Rowing Team, Greg was put through our World Class Start programme testing, which seeks to identify non-rowers who have Olympic podium potential.
"This included a race on the indoor rowing machine against Rio 2016 Olympic champion in the men's four, Moe Sbihi."
Rutherford took the long jump title on 'Super Saturday' at London 2012 - when he, Jessica Ennis-Hill and Mo Farah all won golds in the space of 46 minutes.
It was the first time three gold medals had been won by British athletes in one Olympic athletics session.
"I've found rowing - a sport I've never considered - is a sport I'm actually not bad at," Rutherford said.
"Before we did anything else, we measured height and arm span and the first thing that was said was that I was two centimetres shorter than what British Rowing would accept as the minimum for a rower, so from the first moment I started those dreams were dashed slightly,
"What was fascinating, as we went into the actual testing, was that I set a new record on the leg press machine, which shows that actually you can make it up in slightly different ways."
In September, five-time Olympic champion cyclist Sir Bradley Wiggins abandoned plans to compete at the 2020 Olympics as a rower after finishing 21st on his competitive debut in the 2km race at the British Rowing Indoor Championships last December.
The event sees "members of the public able to race alongside and against the stars of the GB Rowing Team", and this year it will take place at the Lee Valley Velopark in London from 09:00 GMT to 18:30 GMT.