Boat Races 2023: Noam Mouelle - French particle physicist keen to win with Cambridge
By James Burridge & Paul Grunill
BBC Sport
Last updated on .From the section Rowing
The 2023 Gemini Boat Race
Venue:
The River Thames
Date:
Sunday, 26 March
Races:
16:00 & 17:00 BST
Coverage:
Watch live coverage from 15:30 BST on BBC One, iPlayer & the BBC Sport website & app
"It's almost like a glitch in the matrix that a French guy can do this thing."
Noam Mouelle has certainly taken an unorthodox route from the suburbs of Paris to a seat in the Cambridge men's crew for the 168th Boat Race.
Introduced to rowing at the age of nine because his mother wanted him to do an outdoor sport, he now regards it as "like meditation - it's an enjoyable feeling".
And he will become one of a very small number of non-white male oarsmen to take part in the historic 6.8km contest when the Light Blues meet Oxford on the Thames on Sunday.
While he does not regard himself as a "trailblazer", Mouelle believes there are more opportunities in French rowing for people from diverse backgrounds.
"The rowing culture in France and in the UK are slightly different. People in the UK mostly learn to row in schools, but for the schools to have enough money to get good rowing equipment you need to be in a private school," the 21-year-old told BBC Look East.
"It's only a certain demographic that can get to private schools, which is why you have a bit less diversity here in rowing.
"In France, it's not the case. People go to rowing clubs. People row for their school, but they use the facilities of their rowing club. It makes the sport noticeably more diverse. I see why it would be noticed here but in France it wouldn't be a big deal."
American Daphne Martschenko became the first non-white rower to compete in the race when she was part of the Cambridge women's crew which lost to Oxford in 2015 and 2016.
In 2018, British Rowing's club guide said that only 4% of its members were from non-white backgrounds - that number has since risen to 6.2%.
In a statement, British Rowing said: "The primary outcome of increased investment from Sport England is to drive a once in a generation opportunity for cultural change in the sport of rowing, providing clear and tangible opportunities for those who would not otherwise access the sport to do so, critically in a way in which provides a pathway for long term involvement in the sport.
"At a grassroots level there are growing number of successful rowing outreach programmes which provide an introduction into rowing for communities who otherwise wouldn't have the opportunity.
"Within the talent pathway we have a number of programmes which aspire to change the make-up of the GB Rowing team, aiming to target individuals and communities who wouldn't otherwise have the opportunity to realise their talent.
"The investment provided through Sport England will enable the foundations which have been laid above to be built upon in a way which creates a genuine, sustainable change in the long-term vision of those within the sport, and crucially the perceptions and experience of those outside of it."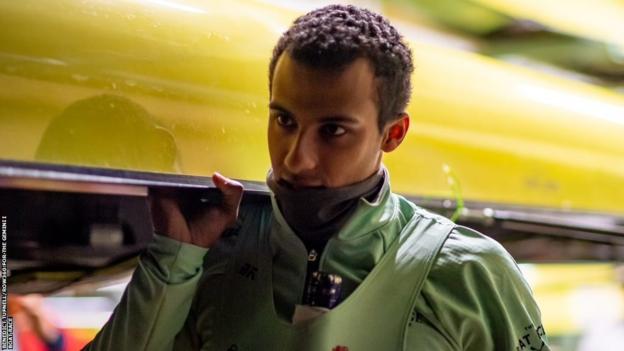 So how does Mouelle think British rowing clubs can encourage more diversity in the sport?
"The main thing is to try and develop club rowing a bit more similar to what's going on in France. Make sure kids get the chance to go to a nearby rowing club," he said.
"If someone feels like rowing is not for them because people who row are different from them, and if that person sees that I am doing the Boat Race and thinks 'maybe I could try and give it a shot at my local club or school', then definitely in that case, yes, I'm happy."
'Which way does it go?'
Mouelle's first sporting interest was judo and he admits he "didn't know which direction the boat would be going" when he decided to try rowing for the first time.
"Before I started rowing I didn't have any idea, I remember turning up to the first session and I didn't know what was going to happen," he said.
Mouelle soon found, however, that the physical and mental demands of the sport were a challenge he enjoyed.
"One of the things I like about rowing is the endurance, you get into a zone where you just focus on one thing and not anything else," he explained.
"One of the reasons I wanted to come here, you have a single goal, because there is so much pressure, there is no other option but to win, it forces you to be the best rower you can be and best athlete you can be, on fitness, on the technical, psychological side, on that day.
"I've been to world championships and it's not something I've found anywhere else."
Mouelle won numerous age-group rowing titles in France before progressing to the junior world championships - and all of that alongside an academic career which took him to Imperial College in London and then to Cambridge, where he is studying for a PhD in particle physics.
He said: "I am working on a new experiment which aims to detect new particles, dark matter, using quantum sensors, completely new technology that we are trying to apply to fundamental physics.
"So, Cambridge is a double project for me, doing well in research and rowing."
For French people who are not involved in rowing, Mouelle says the history and prestige of the Boat Race is hard for them to imagine.
But he will have an enthusiastic 'support crew' back home for the race.
"My rowing club near Paris is getting a big screen so people can watch, especially the kids. My parents will be there watching with my friends, if I win it will be very, very special."
Following three successive victories from 2018 to 2021 - the event did not take place in 2020 because of the pandemic - the pressure is on the Light Blues following Oxford's two-and-a-quarter lengths win a year ago.
So how has Mouelle found the Boat Race experience so far?
"It's different from anything I could have expected, everyone is super positive and so far it's been a great experience," he added.
"I'm trying to cope with the pressure, it's something you have to practice, I'm sure we will be ready."
Men's race crews
Oxford: James Forward; Alex Bebb; Freddy Orpin; Tom Sharrock; James Doran; Jean-Philippe Dufour; Tassilo von Mueller; Felix Drinkall; Anna O'Hanlon (cox)
Cambridge: Matt Edge; Brett Taylor; Noam Moulle; Seb Benzecry; Thomas Lynch; Nick Mayhew; Ollie Parish; Luca Ferraro; Jasper Parish (cox)
Women's race crews
Oxford: Laurel Kaye; Claire Aitken; Sara Helin; Ella Stadler; Alison Carrington; Freya Willis; Sarah Marshall; Esther Austin; Tara Slade (cox)
Cambridge: Carina Graf; Rosa Millard; Alex Riddell-Webster; Jenna Armstrong; Freya Keto; Isabelle Bastian; Claire Brillon; Caoimhe Dempsey; James Trotman (cox)