Trio sign fresh Warrington Wolves deals
Last updated on .From the section Rugby League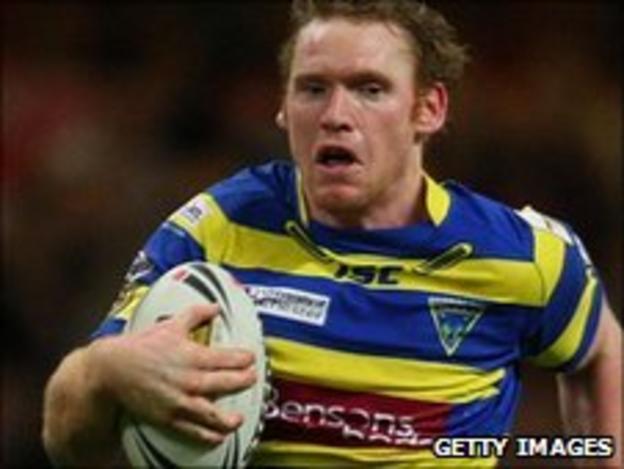 Warrington Wolves have handed new deals to winger Joel Monaghan, forward Paul Wood and young centre Rhys Evans.
Australia centre Monaghan, 28, joined on a one-year deal in December and has signed a new three-year contract.
Wood, 29, who made his debut in 2000, has signed a two-year extension and Wales-born Evans, 18, has agreed to stay for five more years.
Coach Tony Smith said: "They have worked hard and are looking forward to continuing their association with us."
He added: "I'm also a big one for continuity and consistency, and keeping things pretty stable.
"In a sporting club if you look at the most successful sport clubs they have a lot of stability at the top and amongst the players, and I am happy to work with the same sort of squad, with maybe a tweak here and there each year."
Monaghan joined Wolves at the start of the season from Canberra after being photographed in a compromising position with a dog. He has scored five tries in six games this season.
Smith said: "Joel has settled in particularly well and quickly which is quite unusual for an Australian or overseas player to fit in so quickly and look right at home. But Joel has managed to do that both on and off the field fitting in well with the players."
Wood had his testimonial year at Wolves last season after coming through the youth set-up to make 247 first-team appearances.
"He has added a whole lot to his game and seems confident in what he's doing. I am delighted for Woody, as he's a real character to have within the team," Smith said.
Evans represented Wales at youth level before converting to England and has scored two tries in five appearances this season.
Smith said: "Young Rhys is a talent and is learning a whole lot at the moment and will learn a whole lot more over the years. He's playing some good rugby league and will get better as he goes on."