Barrow Raiders coach Nigel Wright warns 'hiding' stars
Last updated on .From the section Rugby League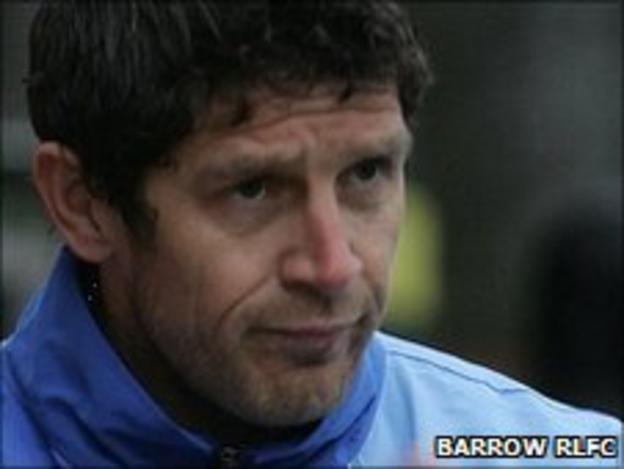 Barrow Raiders head coach Nigel Wright has warned his players they cannot continue to "hide" after Thursday's 48-12 defeat by Featherstone Rovers.
Raiders had Jamie Rooney, Mark Gleeson and Ned Catic in the side but conceded 10 tries to just two of their own from Andy Ballard and Joe Wardle.
"Sometimes these superstars, when it gets tough, go hiding and wait for next week," Wright told BBC Radio Cumbria.
"Unfortunately for some of them there might not be a next week."
Wright took over at Craven Park after the surprise departure of Garry Schofield in March, and has won one of his four games in charge since, with victory over York wedged between defeats by Featherstone, Batley and Leigh.
"Once the boys cross the line, they know what their job is, they know how we're playing," Wright added.
"It's up to them to express themselves and go out to play to their full capability and I don't think they're doing that.
"You can't be out there holding their hand and putting them in field positions, telling them what to do every time they've got ball in hand or get put in defensive situations.
"But we persist and we keep trying because we love the game too."