St Helens' James Graham joins Canterbury Bulldogs
Last updated on .From the section Rugby League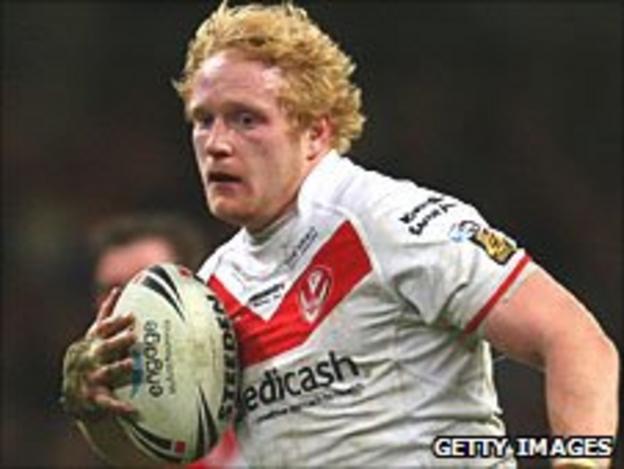 St Helens joint captain James Graham will, as expected, join NRL side Canterbury Bulldogs when his contract expires at the end of the season.
The Great Britain prop, 25, who has spent nine years with Saints, has signed a three-year deal.
"We did everything practical to persuade James to stay," said Saints chairman Eamonn McManus. "But we respect his wishes and ambitions.
"There comes a point where you have to just shake his hand and wish him luck."
Canterbury Bulldogs chief executive Todd Greenberg told BBC Radio Merseyside: "It's a huge coup for the club.
"He brings not just on-field talent, he brings a huge profile off the field.
"He also brings some very strong leadership qualities to the club. Having met him last year and the way people talk about him from within the UK, he comes with glowing endorsements."
Graham, who was voted Man of Steel in 2008 and captained England down under in last autumn's Four Nations, admitted: "The decision to leave St Helens has been by far the biggest decision of my rugby league career.
"I've been on the books with Saints since I was 11 years old and I grew up supporting the club.
"I love the place and I never wanted to play against them, and as such I didn't consider any other Super League options.
"But testing myself in the NRL is something I've always wanted to do, and the Bulldogs just seemed right from day one.
"From first meeting with Todd, I got a feeling that the Bulldogs are a club heading in the right direction.
"They made it clear to me that they saw me as a big part of the future of the club and I'm looking forward, after a successful finish to my time at Saints, to linking with the club at the end of the year."
Saints, who will also lose Bath-bound Kyle Eastmond to rugby union at the end of the season, were already fearful that they would lose Graham to the Australian side.
But McManus says that Graham, who had been courted by a host of NRL clubs, will always be remembered as one of the best players to come out of Knowsley Road.
"James will be remembered as one of the all-time greats of the club," he said. "Even at the age of 25.
"He has handled the situation professionally and with absolute respect for Saints, recognising what we have done for him as well as what he has done for us.
"He does not need to reassure the fans that he will give 100% for the rest of the season, that is taken as read.
"The door will always be wide open for him at St Helens and with a red carpet leading to it."
Canterbury head coach Kevin Moore says Graham is a key acquisition.
"James has been rated among the best front rowers in the world for a number years now," said Moore. "It's always exciting to add international quality to your forward pack. I think he's going to make a big impression across the NRL."