Salford City Reds appoint Matt Parish as head coach
Last updated on .From the section Rugby League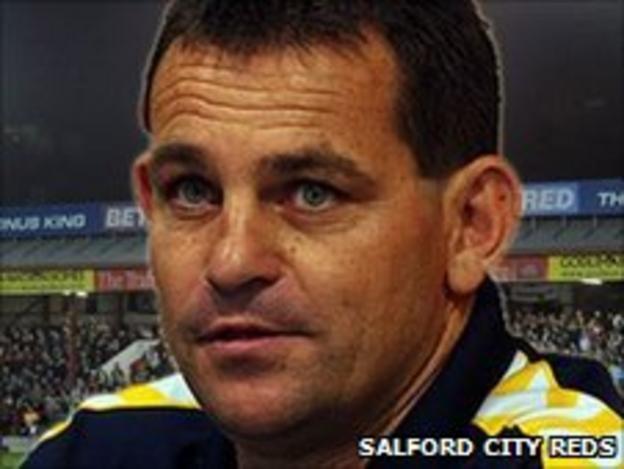 Salford City Reds have appointed another Australian, New South Wales assistant coach Matt Parish, to succeed Shaun McRae as head coach.
Assistant coach Phil Veivers will stay in charge until Parish's State of Origin commitments with the New South Wales squad are complete in mid-July.
Veivers has been at the helm since coach McRae first fell ill in March, before leaving The Willows on 29 April.
"It's a pretty prestigious position," Parish, 42, told BBC Radio Manchester.
"I made a few enquiries along with a number of other people and was lucky enough to get the job.
"It is a club with a lot of tradition and the future looks bright. There are a lot of young players and we have a fantastic new facility on the way.
"And, from a coaching point of view, Phil Veivers will continue to do the job until I get to England in July."
As a player, Parish made 64 first team appearances in the centre for Balmain between 1988 and 1993.
Parish was also assistant coach with North Queensland Cowboys before being taken on by Ricky Stuart as his assistant with the New South Wales state team.
Parish will be particularly familiar with two of his inherited line-up, Mark Henry and Ray Cashmere, who both worked under him with North Queensland Cowboys.
"We worked with Matt for three years," Cashmere told the club website.
"Matt certainly tells you what he thinks, but that's good.
"As a player I'd rather somebody lost their temper with me than gloss over stuff and sugar-coat it."
"Matt Parish is a very passionate man but level-headed with it," said Henry. "He's switched on.
"He won't expect to work miracles but he will have Phil Veivers to help him."
Salford chairman John Wilkinson believes that Parish could be as successful as his compatriot Michael Maguire with North West neighbours at Wigan.
"We've got a guy who'll be very enthusiastic with a lot of activity in him to bring that through for us," said Wilkinson.
"I believe we've been a bit lacking in that area.
"We've seen what's happened with Michael Maguire.
"Two years later he's going back to Australia with more credibility to his name and I imagine Matt Parish will be in that same area."