Jamie Peacock critical of fans who booed Sam Tomkins
Last updated on .From the section Rugby League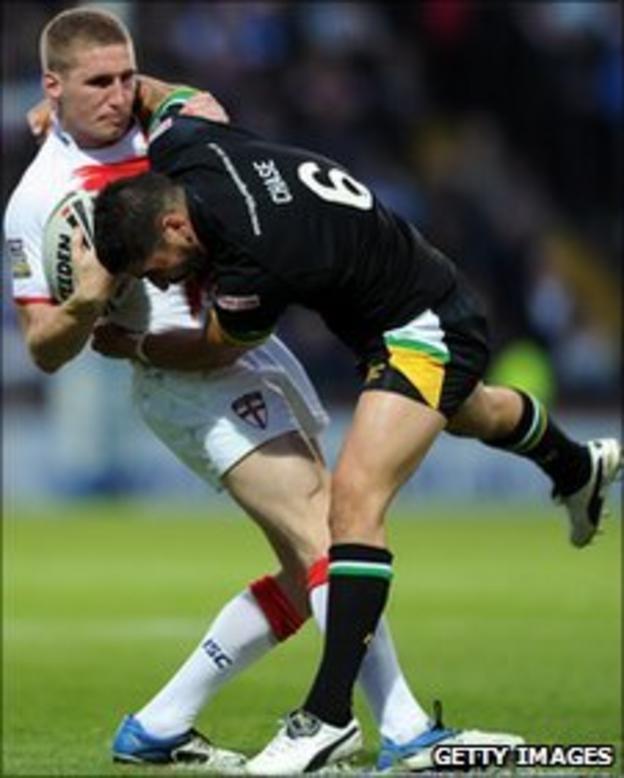 Jamie Peacock has criticised the "disgraceful" booing by fans aimed at Wigan's Sam Tomkins in Friday's International Origin game.
The conduct of some of the 14,174 crowd inside Headingley stunned Rhinos forward and England captain Peacock.
"When you come to support England, you should support England no matter who is playing for them," said Peacock.
"I'm England first and Leeds Rhinos second and some other people should get that mentality."
A late try from Wigan's George Carmont snatched a 16-12 victory for the Exiles, a team of Australians and New Zealanders based in the Super League, in the inaugural International Origin fixture, which was introduced to replace the traditional mid-season Test against France.
Tomkins said the reaction of the fans took the shine off the occasion.
"It certainly has for me," he said. "It's just not nice and you don't expect it.
"I don't mind taking a bit of stick when you are playing at club level but, when you look at the most successful teams in rugby, they've got a quality fan base behind them.
"We definitely had some genuine fans there cheering for England and probably I was under a slight illusion that there would be more of them.
"But it's a bit of a joke when you're getting booed representing your country on English turf."
As captain of the England side and a Leeds player, Peacock said he took the abuse of Tomkins personally.
But despite his frustration with some fans, Peacock, who plans to play for Leeds against Hull KR on Sunday, said he would like to see a two-match series next season.
"I think there's room to expand it," he said. "We're all going to be backing up on Sunday and whether it's beneficial to back up two weekends in a year I don't know.
"Maybe one of them could be a stand-alone fixture and the other where you back up."
Rugby Football League chairman Richard Lewis said talks on the future of the fixture would start next week.
"I think it was a real, good contest, which is what we wanted," said Lewis. "We wanted a tough mid-season international.
"It was a good crowd. We were pleased to get 14,000. A lot of people are comparing it to State of Origin in Australia which is obviously a fantastic spectacle.
"When that started, it was on a fairly low-key basis. I don't think this was low key. I think it was a really good start."