Gareth Thomas pleased to extend Crusaders career
Last updated on .From the section Rugby League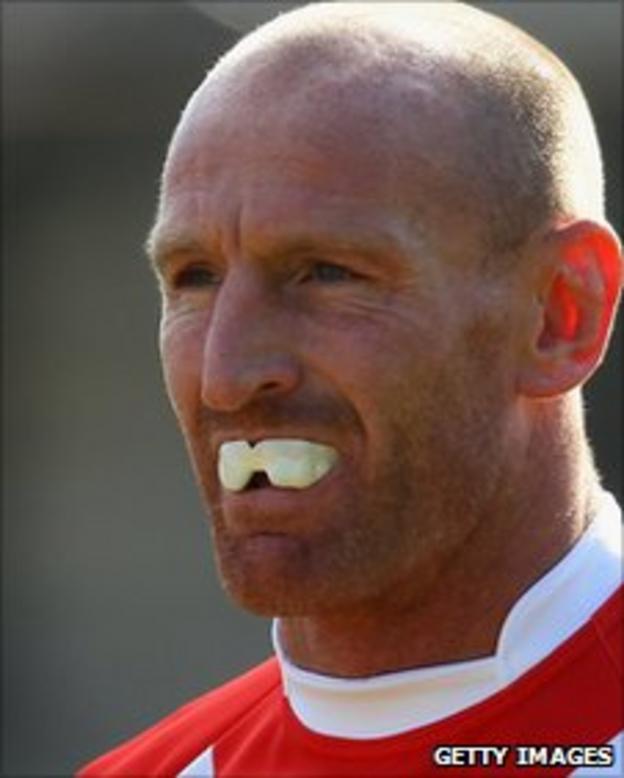 Former British and Irish Lions and Wales captain Gareth Thomas believes he still has a lot to offer after signing a new one-year deal with Super League side Crusaders.
The 36-year-old former Wales union player had hinted he would retire but will now continue for another season.
"I've enjoyed this year," Thomas told BBC Sport Wales.
"This year has been another learning curve for me and I'm enjoying what I'm doing."
Thomas switched codes to join Wrexham-based Crusaders on an 18-month contract from Cardiff Blues in March 2010.
The Bridgend product, who has settled at centre for Crusaders, will remain with the north Wales side until at least the end of the 2012 season.
"I spoke to a lot of people before I made my decision," added Thomas.
"Everybody I know who is still playing top-flight rugby or retired from top-flight rugby all have the same advice - you're a long time retired.
"I wouldn't do it if it was just for the sake of getting paid for another year.
"As long as somebody wants to keep me at top-flight rugby, because they believe I can do it, then why not?
"I don't know what I'll do when I retire, so I've got another 12 months without having to worry about that.
"I love rugby. Rugby is in my blood so I don't know what I'd do without rugby."
Thomas and his Crusaders team-mates lost 12-7 at home against Leeds on Friday night, a result that keeps them bottom of Super League.
Yet despite a frustrating season on the pitch, Thomas is enjoying life in north Wales.
"It's a great bunch of boys to be around and I like what's going on at Wrexham. I like the buzz we're causing," said the former Cardiff Blues player.
"Fans are coming out in the rain when we're bottom of the league and we're losing.
"I want to be a part of that and help build something when I definitely leave.
"Hopefully I will have left something that's going to carry on being successful."