Crusaders sign former Leeds centre Keith Senior
Last updated on .From the section Rugby League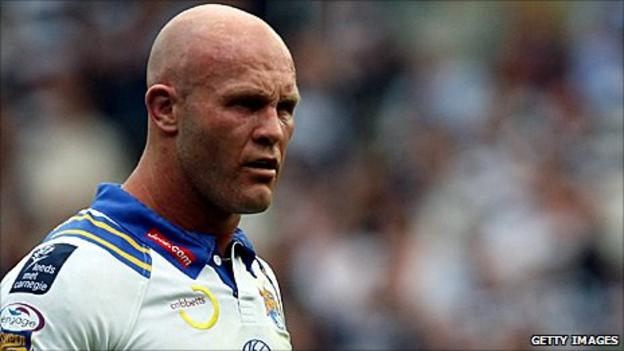 Crusaders have signed former Leeds Rhinos and Great Britain centre Keith Senior on a two-year deal.
The 35-year-old is leaving Leeds after being told his playing contract would not be renewed next season.
Senior said: "After the heart-wrenching decision to leave Leeds, it was very important to find the right club.
"I see this move as a great challenge and I hope that the drive and determination that I have to succeed will bring success to the Crusaders."
The ex-Sheffield Eagles player, who won 33 caps for Great Britain, will rejoin former Leeds team mate Iestyn Harris, who is head coach at the Welsh club, a factor which Senior said had influenced his decision.
"I was fortunate to receive several offers from Super League clubs," Senior explained. "But after speaking to Iestyn, I was particularly impressed with his plans and enthusiasm for the future of the Crusaders.
"I am aware that the club has a difficult building process ahead and I feel that with my 18 years of professional rugby experience I will be able to contribute greatly and hopefully help change the Crusaders into a club which is challenging for honours."
Widnes and Wakefield were both understood to be interested in signing Senior, and Harris said his choosing Crusaders showed the ambitions of the Wrexham-based club.
"He has been the top centre in Super League for over 12 years now and players of Keith's quality do not come along very often," Harris added.
"I've played alongside him and he is a very special player. He's a devastating attacker who always gives 100% to the cause. His leadership skills, experience and winning mentality can only make us a stronger team next season.
"He is still at the top of his game and his signing is a major coup for us."
The first player to reach 500 games in Super League, Senior's season was curtailed in May when he damaged his cruciate ligament and cartilage during the Rhinos' 40-20 Challenge Cup fifth-round win over Harlequins.
He will make one final appearance for Rhinos in the traditional Boxing Day Charity Festive Challenge match, as the Headingley club promised to 'look after' a player who scored a 199 Super League tries in a 413 appearances for Leeds and Sheffield - both totals representing Super League records.
"I remember the club did something similar for Willie Poching (appearing in the Boxing Day clash)," Senior said. "It is a nice way to say goodbye and thank you to all those who have supported you throughout your time at the club.
"The last few weeks have been difficult for me with my injury and I am not a good spectator. My knee is on the mend and I am relishing the opportunity of getting back on the field next season after this break fresher than ever.
"My recovery is coming along well from the knee operation and the biggest disappointment for me is that I will leave the club whilst injured."
Leeds chief executive Gary Hetherington told BBC Radio Leeds: "Keith has been a fixture in the side now for about 12 years and he's got a remarkable record.
"He wanted to finish his time at Leeds as a top player - he didn't want to finish as a player who was part of the squad and maybe played now and again.
"I think he'll go down as the club's greatest-ever signing. He'll be a legendary player and remembered by all for many years to come."