Dave Clark needs time at Barrow Raiders - Nigel Wright
Last updated on .From the section Rugby League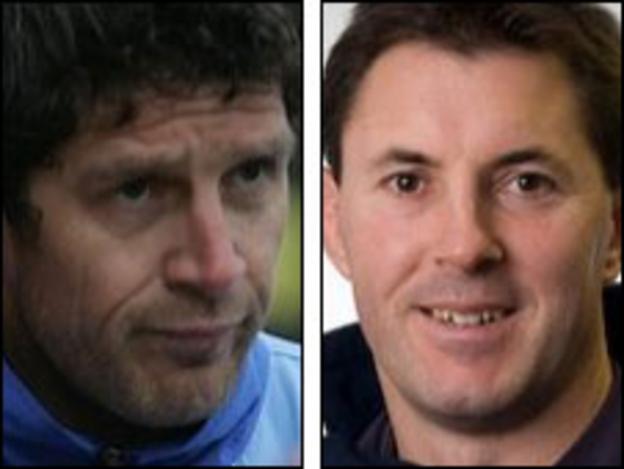 Former Barrow Raiders head coach Nigel Wright believes his replacement Dave Clark must be given time to make an impact at Craven Park.
Wright's departure on Tuesday ended a four-month spell in charge, following Garry Schofield's exit in similar circumstances this April.
"The club needs stability," Wright told BBC Radio Cumbria.
"Dave Clark now has a two-year deal and at least they're heading in the right direction by giving him that."
Wright added: "I wish him all the best along with the players, but the club needs to give him three years, that will see the club up to the next set of franchises."
Prior to his dismissal Wright had been juggling his personal business interests close to his home in London, with matchday duties as head coach.
In tandem with Wright, former Bradford Bulls fitness specialist Martin Clawson worked on a day-to-day basis with players - a situation that the Raiders club statement called 'untenable'.
"The players and the head coach were a little bit like passing strangers," Johnston said.
"Nigel could only get up to Barrow at weekends, we had a couple of midweek games and he unfortunately got caught in traffic and missed one of the games.
"Things started adding up, and it was increasingly difficult, it was a decision we had to make for the good of the club."
In response Wright said: "It's a fair comment, but that's a situation that was there when I was given the job,"
"I spoke to Des and the board at length before I was given the job, expressing that I would find it hard to commit to more than I could and yet the job was offered.
"It's not for the want of trying. Myself and Martin Clawson have given everything to the club this season to get them in the position that they're in now."
Meanwhile Wright's successor Clark, in his fourth stint as Raiders coach, has been promised the backing of the club's board after he was handed a two-year deal on Tuesday.
"Dave Clark will get the full two years and the one-year option, if he wants to carry on for three years then there will be nobody happier than me," said Raiders chairman Des Johnston.