Ben and Rhys Evans opt for England over Wales
By Steffan Garrero
BBC Wales Sport
Last updated on .From the section Rugby League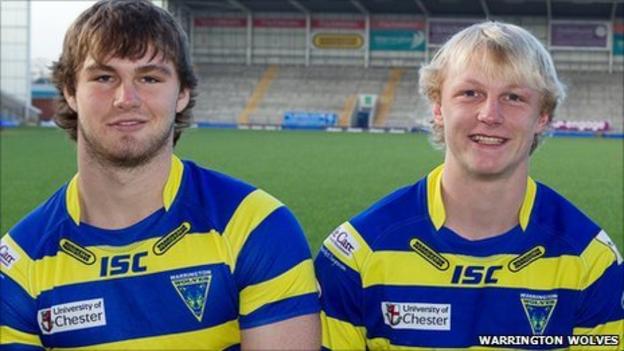 The 18-year-old Evans twins should be the poster boys for Welsh rugby league.
They are the sort of players who get dragged to every photo shoot, every national squad announcement. They are exactly what the sport in Wales needed.
Though born in the rugby union heartland of South Wales, Ben and Rhys are rugby league through-and-through.
Sadly for Iestyn Harris, the Welsh National coach, they do not want to play for Wales.
When we meet at Warrington Wolves' training ground on the campus of Chester University, the brothers are wary about questions about their decision to turn out for England.
Because their mother, Jane, is from Plymouth, they are entitled to choose either team.
"That's the thing which no one reports," says Rhys in the university cafe, "when they write about the decision."
It was Rhys, the blond centre, who revealed that they had chosen to represent England at international level during a television interview after his try-scoring performance against Leeds Rhinos on his Super League debut in March.
"We started off at Brynteg Comprehensive School in Bridgend, playing union first, but Kevin Ellis [the former Warrington, Wales and Great Britain player] came to our school to introduce league, and entered us into a national competition," said Rhys.
"We got to the final at the Millennium Stadium; it was a curtain-raiser for the Challenge Cup final in 2005. I scored a hat-trick and Ben got man of the match.
"Then Warrington's scouts came to see us play for Wales Under-13s and invited us up for a trial."
As 13-year-olds, the twins sat down with their mum and decided to move to north west England to become professional rugby league players.
The brothers are as different as twins could be. Ben is a thick set, stubbled, dark-haired prop. Rhys is a fair, whippet-fast centre with scarred eyelids that tell tales of the physicality he also brings.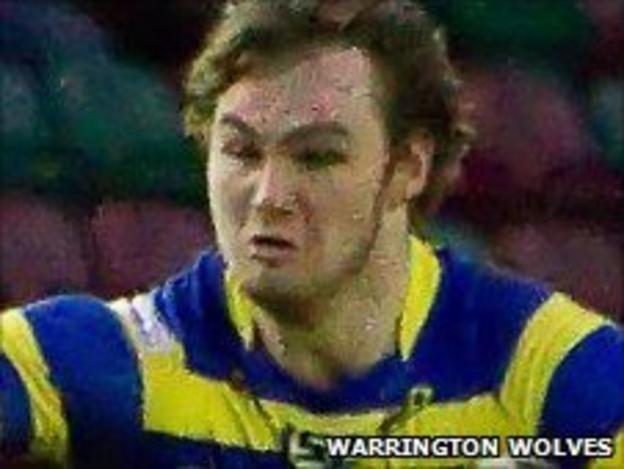 Ben's assessment is succinct: "He's quick… I'm not… I'm a bit stronger. So he's a back, I'm a forward."
There are occasional words which betray their South Walian roots, but the accents are mainly Warrington.
"I think it's helped us out, being twins," confides Ben, who has yet to make his Super League bow.
"Say you've got an older brother, if he beats you at something you think 'Ah, well he's older, he should win'. But with me and Rhys we won't let each other win and we'll never admit defeat."
Their pragmatism about their international careers has always been evident. Considering themselves to be half-Welsh, half-English, they kept their options open for as long as possible.
"I started with Wales Under-13s, then I played for England 15s, Wales 16s," says Ben.
"I was involved with the Wales first-team squad for a bit and then decided to play for the England U18s against Australia, which was a really good experience. We beat them for the first time in 10 years."
His brother continues: "We just want to get as far as we can within the England set-up.
"We want as much opportunity to play in the big, big tournaments and hopefully win some of them. At the moment England is the best level possible that you can be playing at.
"So when you set your aims and goals to be as high as possible, then that's where you want to head to and that's what me and Ben want to achieve. The best we possibly can in this sport.
Sitting a table apart from the Evanses during lunch are two current Wales internationals. Rhys Williams, who, like the twins, is one of the few Welsh-born Super League players, and the current captain of Wales, Lee Briers.
"Obviously the Evans boys have switched to England but that was a tough decision for them, they still think of themselves as being part Welsh" says Briers.
The English-born stand-off was one of the last Welsh internationals to be capped by the Great Britain team before it was scrapped in 2007.
"If we don't bring Great Britain back I think we're going to see a lot more of this. It's supposed to be about making the international game stronger, well, it's not helping Wales, Scotland or Ireland, all's it's helping is England."
"Ben and Rhys will be playing against better players and are probably going to earn a lot more money by playing for England. It's a short career and you've got to make as much money as you can."
Rhys Williams points out there could be as many as seven Welsh-born Super League players in Iestyn Harris's Four Nations squad, and perhaps the future for Welsh rugby league is brighter than it is being painted.
"It's their decision and what they think is right for them. There's no hard feelings... obviously they get a bit of stick but it's their choice…"
To emphasise the point he shouts: "Traitor scum!" at the twins as he leaves the cafe. All three collapse in laughter.