Gareth Thomas raises Crusaders pay fears
Last updated on .From the section Rugby League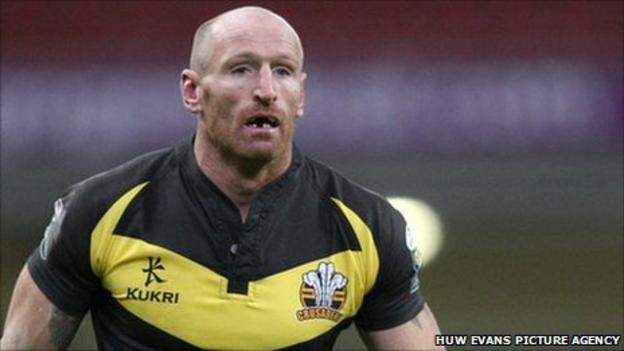 Crusaders star Gareth Thomas fears players may not be paid following the Welsh club's decision to leave Super League at the end of this season.
Thomas, 36, told BBC Radio 5 live Sport: "It's a difficult situation to be in at Crusaders. Rod [Findlay], the CEO here, has asked us if we'll play out the rest of the season.
"But then we haven't been guaranteed that we'll even get paid."
Thomas, the club's most high-profile player, was non-commital about his own future.
The former rugby union star, who made a record 100 appearances for his country, captaining both Wales and the British and Irish Lions, switched to league with the Crusaders in 2010 and recently signed a one-year contract extension with the club.
"In the long term, I have options and other people have options," said Thomas, who is currently sidelined with a broken arm.
The former Cardiff Blues player was more concerned about the impact Tuesday's announcement would have on the local area.
He said the decision to pull the Wrexham-based club out of Super League was "ripping.... a soul and a community" out of the area.
"I was speaking to kids today and they're devastated because they followed us," said Thomas. "They looked up to us and they wanted to be like us because they had a team here.
"The thing that saddens me mostly about it is the fact there's a community here that wants sport and it wants teams to follow."
He added that the team only found out what was happening when they met coach Iestyn Harris for a training session on Tuesday morning.
"The boys are still so much in the dark," said Thomas.
"The co-owners of the club are conveniently on holiday so the boys have got questions they want answered. Unfortunately, the people with the answers aren't around.
"We're all just devastated. It's not just about the rugby, it's about people's lives and people's families.
"That's where it really hurts most. These guys now have got to try to prepare for a future that they thought they'd already prepared for."
With Wales set to co-host the 2013 World Cup with England, Thomas said the sport has suffered a blow in his homeland.
"With us being in the Four Nations this year and hosts of the World Cup, to me it's a real sad state of affairs, not just for the Crusaders but for Wales in rugby league as well," he said.
"It is a huge shame, especially at this stage in Wales rugby league at the moment. For me, it's taken two steps forwards and one step back."
The Crusaders have had a turbulent history, having finished bottom in their first Super League season in 2009 before rising to the play-offs in 2010.
This season, they have struggled again and are propping up the table in 14th position with five regular league games left.
The Crusaders were placed in administration in November 2010 in a bid to remove the burden of debt they inherited before moving to Wrexham from Bridgend, thought to amount to around £1.25m.
They were handed a point deduction as a result, starting the season on minus four points.