Ex-Crusader Mark Lennon makes pensions claim
Last updated on .From the section Rugby League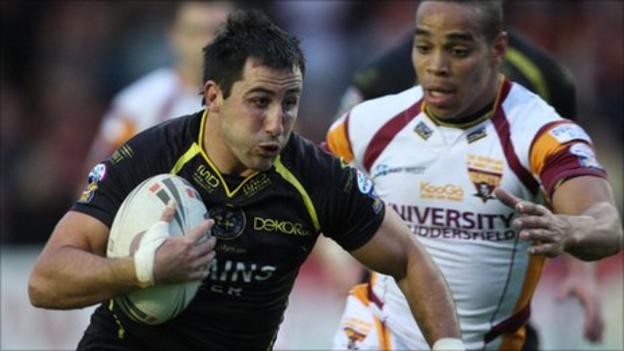 A former Crusader claims that £450,000 is owed to some of the club's past and present players.
Mark Lennon also says "the heart has been ripped out" of the sport in Wales by the Crusaders' decision to withdraw from Super League.
Lennon, 29, played for the Crusaders in 2008 and 2009 and now plays in Australia for Burleigh Bears.
"We have been told about numerous sums of pension money that is owed, up to £450,000," said the utility back.
"We were told it would be paid and we were lied to to our faces, blatantly."
The Australian-born Welsh international is one of a number of disgruntled players, both past and present, still chasing monies owed by the Wrexham outfit.
The current squad have vowed to carry on as normal in their remaining four games of the season.
But the vast majority are also now hunting new clubs for the 2012 season.
Lennon was with the club when they were awarded a Super League licence in 2008. The club changed hands and moved from Bridgend to Wrexham in 2009 and its debts transferred in the process.
"Wales made it through to the Four Nations last year and the Crusaders made it to the play-offs of the Super League with plenty of youngsters coming through," he said.
"This should have been a real year of celebration of rugby league in Wales.
"Instead the heart has been ripped out and this has come as a real kick in the guts.
"We made real strides last year and I hope we don't go back to where we were in 2004, 2005.
"I''ve been following what has been going on closely because I have a vested interest with the money I am owed.
"My figure isn't very big in context to some, but I'm owed £9,000. That's still a large quantity of money to anyone.
"That can go to a house deposit, a wedding. Me and my fiancee are getting married this year and it would have been handy for that. It was money we put aside for that.
"I know some of the other players have got substantial amounts in there. We're talking hundreds of thousands of pounds."
Lennon claims players had to pay for their own transport to Super League's 2009 Magic Weekend in Edinburgh.
He said: "We can legitimately say the boys had to pay their way to Edinburgh.
"They were told to get a bus that was going to take a ridiculous amount of time to get to the game and that was all the club said they would do.
"That's not really viable and as a professional team in the best rugby league competition in Europe, a 12-hour bus ride wasn't viable.
"The club said if we wanted flights we would have to do it ourselves, so the boys actually had to pay their own airfare up to Edinburgh for the Magic Weekend.
"We were treated with contempt. They took the mickey out of us with a lot of things.
"We had to fork out for things that normal professional rugby league teams shouldn't. We had to put on our end-of-season presentation night ourselves.
"Training gear never came at times and we had to train in normal clothes.
"I played for two Super League clubs in the UK and two clubs in the NRL and not once have I ever been through anything I went through at the Crusaders."