Rugby league star Sean Long admits to making mistakes
Last updated on .From the section Rugby League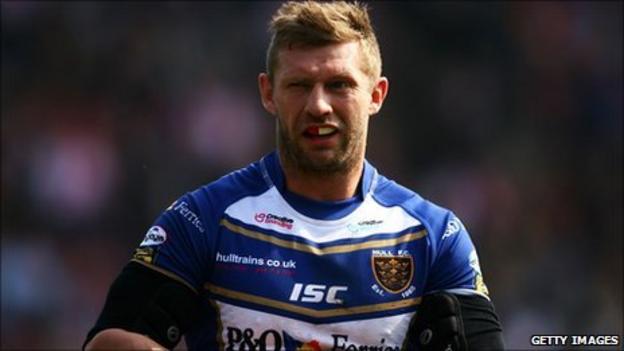 Rugby league star Sean Long has admitted he was "selfish and foolish" during his glittering 17-year career.
The former Great Britain scrum-half has announced his retirement, aged 34.
He won a host of honours with St Helens, but was also banned for betting irregularities and controversially quit the 2006 Tri-Nations series when on Great Britain duty.
"At first I didn't have any regrets, I was a bit selfish and a bit foolish," Long told BBC Sport.
"But looking back now, I do have regrets. I regret putting the bet on obviously, that's a no-brainer. That was very foolish. I was young at the time.
"And then coming home from the tour, I should have stuck it out.
"I was injured for the last game against Australia, so probably couldn't have played. But I should have stopped there with the boys, stayed united, and come home with them.
"But foolishly and naively I came home early, so there are things I do regret, and hopefully I've learned from those mistakes."
Long, born in Wigan, was part of four title-winning sides with Saints, and also won the Challenge Cup three times, earning the prestigious Lance Todd man of the match award on each occasion.
He was banned for three months in 2004 after an investigation into betting irregularities.
In 2006, he was criticised for leaving the Tri-Nations series early when on Great Britain duty.
After 12 years with Saints, he signed for Hull in a two-year deal in 2009 but announced his retirement on Wednesday following a shoulder problem which had ruled him out for several months.
It was a decision he admits was tough to make, but he looks back with pride on his career.
"I'd say winning the Lance Todd not once but three times was the highlight," he said.
"Just to play in a Challenge Cup final is amazing, so to get the Lance Todd, which is one of the most coveted trophies you can get, was amazing.
"Luckily for me I was involved in a great side with St Helens, and won it three times. It's pretty mind-blowing stuff when you think about it."
Long is now set to take up a coaching role, after admitting he could have carried on playing for another year.
He said: "I could have carried on. My shoulder would probably have been right by October, so I could have had a good pre-season and got a job with another team for a year.
"But maybe this [coaching] job would not have been available in a year's time.
"This job doesn't come along very often so I've got to take it. It's a no-brainer, really.
"I've had a great career. I don't want to play one more year and have people say 'who's this old chap busted up and can't play? He should have retired'.
"I'd hate to get that off fans because I've had a pretty good career, and hopefully people remember that bit.
"I want fans to remember me as a genuine bloke, a good honest bloke who enjoyed a good time. A bit of a maverick on the field, a great team-mate to have in the camp and a pretty good player. If they said all those things, I'd be made up."