Boyhood Wigan fan Tomkins makes dream return to Wembley
Last updated on .From the section Rugby League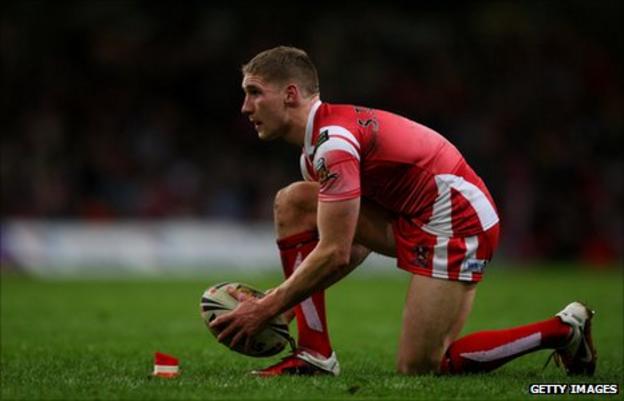 Sam Tomkins was a spectator the last time Wigan went to Wembley in 1998.
And, when he returns to Wembley this Saturday, he needs a happier outcome than the 17-8 Wigan defeat to Sheffield Eagles he witnessed 13 years ago.
But, for all this season's eye-catching achievements, he admits to a sense of awe still in just being at Wembley.
"It's something you dream of, being a kid from Wigan, knowing the tradition Wigan have in the Challenge Cup," Tomkins told BBC Radio Manchester.
"To think I'm going to be a part of it, I don't think it's quite sunk in yet.
"I was with Wigan St Patrick's at the time when we went there in 1998. It was a good day, but obviously we didn't get the result we wanted.
"But now to get through to the Challenge Cup final with Wigan has made this season all the more special."
Since that 1998 Wembley flop, Wigan have twice been back to the Challenge Cup final, having beaten St Helens at Murrayfield in 2002, before losing to their great rivals in the rematch at the Millennium Stadium two years later, while Wembley was still being redeveloped.
But this is their first return to the place that almost become a second home to the Cherry and Whites in their glory days between 1988 and 1995 when they made eight straight finals, winning them all.
And Tomkins is looking to provide outgoing coach Michael Maguire with the perfect leaving present to add to the Warriors' Grand Final triumph at Old Trafford 10 months ago.
"The changes Madge has brought to the club are priceless," he said. "And I think everyone owes it to him to win a Challenge Cup.
"We've got a few other people leaving at the end of the year as well so I think it's important for them to feel a bit of that success too."
Tomkins, who has run in five tries in four games en route to Wembley, put in yet another man-of-the-match performance in the 18-12 semi-final victory over St Helens.
And the academy product, who has won a raft of awards in the past 12 months, is already being widely tipped to win the Lance Todd Trophy, presented to Wembley's man of the match.
But, despite his current hot trot of 12 tries in his last six games, Tomkins tries to play down all the hype.
"It's nice to hear," he said. "But I don't think you can read too much into it. I think people write what people want to read sometimes.
"It's a case of realising that all I want to do is play my best week in, week out and there is a great group of lads helping me do that."
Salford coach Matt Parish even last week compared him with Australian international full-back Billy Slater, regarded as one of the world's best players. But Tomkins remains typically modest.
"I think Billy Slater might be a way in front of me just yet," he said. "And it's nice to be mentioned in the same sentence as people like that.
"But there's 20-odd other blokes that I train and play with every week that wouldn't let me get one step above myself at all.
"I've got great family and friends who don't let me get my feet off the ground and it's not the kind of person I am."