Leeds legend Francis Cummins backs new crop to succeed
By Jake Katborg
BBC Radio Leeds
Last updated on .From the section Rugby League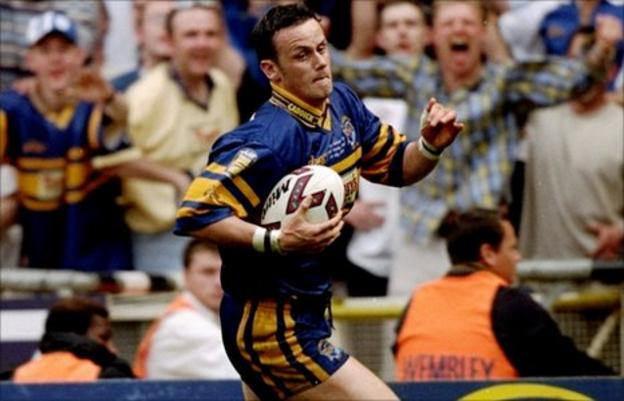 If anyone knows about the pain of losing a Challenge Cup final, then it is Francis Cummins.
The Leeds legend twice suffered Wembley heartbreak before finally tasting success in 1999 - the last time his former side won the famous old trophy.
And, although the boots have been hung up and Cummins is coaching at Leeds' bitter rivals Bradford, he still remembers his first experience of playing at Wembley.
At 17 years and 200 days, Cummins remains the youngest person to play in a Challenge Cup final when his Leeds side took on Wigan in 1994.
"I was only 10 months out of school, I'd played well every week after Christmas and I was still cleaning the boots of my team-mates because I was an apprentice," Cummins told BBC Radio Leeds.
"I remember the day before, and Ellery Hanley took me to one side and said 'You know they're going to kick to you straight away, you're a young lad and they're going to come and get you'.
"Sure enough they did. I've caught the ball over my shoulder, which is probably the hardest catch, and I'm not sure how I did it.
"But I caught the ball, ran 40 metres and got tackled, but it steadied my nerves."
It was not to be Leeds' day, as Wigan ran out 26-16 winners, although Cummins was rewarded with a consolation try.
"Phil Clarke put an awful pass out to Martin Offiah and I just got on the ball and ran.
"I didn't know where I was running, and even looking back I don't know why I ran from my left-hand corner to the posts.
"It looked direct just to run in a straight line but I've run towards the posts and Dean Bell's chasing me.
"He was never going to catch me and I got away. In my whole career I was never any good at diving or celebrating, but I remember getting over that try-line and my throat was already dry and I was just a passenger by that time.
"I was lucky enough to get there but I just couldn't get up. I scored the try but it took me a while to get off the floor and then they basically dragged me back to our half.
"If they'd have kicked off to me there I would have had no chance - if I'd caught the ball I'd have thrown it into touch, I was that tired."
Leeds had a quick chance to redeem themselves the following year when they were back at Wembley, with Wigan again the opponents.
But this time the two sides were even further apart as the Warriors ran out 30-10 winners.
Cummins was not to be denied his glory, however, as he returned to the Twin Towers for the 1999 final, where he scored in the 52-16 win over London Broncos - Wembley's biggest Challenge Cup final win.
It has been a barren time for Leeds in the competition since then, with four losing finals, including last year against Warrington.
Now, as Leeds' current crop look to emulate the class of '99, Cummins is backing them to defy the odds.
"I suppose if you're a betting man and it was a regular round, well Wigan have beaten Leeds twice this year and Wigan are ultimately top of the tree - they're the best in the competition.
"But Leeds have got the game to beat Wigan because they can pass the ball. They've got people that can do things that other players can't do.
"I saw the semi-final and Leeds looked so uptight. They just needed to get that win and they didn't want to make a mistake and I understand that from the way the season has gone.
"If they pass the ball and take Wigan on, and get Danny McGuire chipping in with Rob Burrow and Danny Buderus helping Kevin Sinfield out, then they've got a great chance."