Crusaders meet Championship date
Last updated on .From the section Rugby League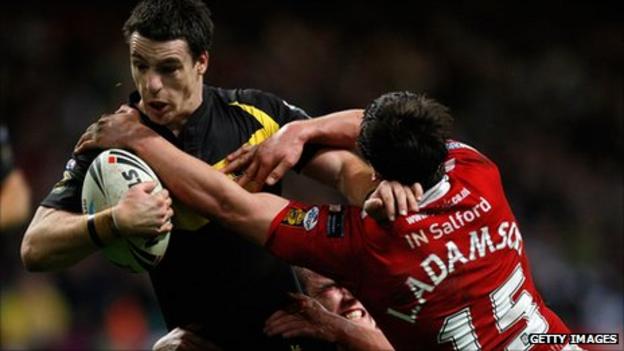 Crusaders have met the deadline to bid for a Championship place next season.
Crusaders hope to join Wales' other professional outfit, South Wales Scorpions, in the second tier of the Rugby Football League pyramid.
Campaign groups supporting the Crusaders have backed the move.
Crusaders met Friday's deadline to submit their formal application to join the second-tier tournament.
The Wrexham club were forced to drop their bid for a new three-year Super League licence at the 11th hour when the owners withdrew their backing.
But the club pledged to fight for a future after receiving 4,000 pledges of support.
Crusaders' application will go before the Rugby Football League's board of directors, who are expected to reach a decision in mid-September.
Chief executive Rod Findlay, who pleaded for fans to show interest in sustaining rugby league in north Wales, said: "There have been over 4,000 expressions of support in a short space of time and that, along with backing from the business community, has given us the confidence to press ahead.
"The next step is to prepare a business plan to send to the RFL for approval and then we will need to sit down and think about recruiting coaches and players."
Local businessman Jamie Thomas, from the Save the Cru campaign, has been encouraged by the support they had received.
"Any fears of the club ceasing to exist I think can be allayed to an extent by the show of support from the fans," Thomas said.
"We can be confident if we do go into the Championship that we will have a well-supported club."
Despite the disappointment of pulling out of Super League, supporters' club chairman Chris Jones said the club could now look forward to the future.
"This is not the end, it's the beginning," he said. "Hopefully we can resurrect this team now and kick on from here and learn our lessons."
Several Crusaders players have already signed deals with other clubs for next season and there is uncertainty over the future of head coach Iestyn Harris, who has been tipped to join Wigan Warriors as assistant coach.
Harris's men lost 58-18 to Hull in their final home game in Super League last Sunday and now complete their season with trips to Bradford and Wigan.