Noble on Leeds v Wigan
By Brian Noble
BBC rugby league pundit and former coach
Last updated on .From the section Rugby League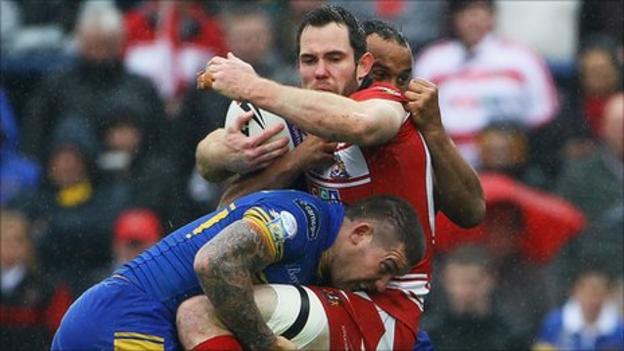 Going into Saturday's Challenge Cup final, I'm a bit surprised and disappointed that everyone is writing off Leeds' chances against Wigan.
This is a two-horse race and I think the Rhinos have the quality of personnel to show up on the big day and turn it on. The challenge for Leeds is to get into Wigan and throw a few things at them to try to disrupt them.
The two games between them this season have been close and I've no reason to think it won't be the same again. Leeds could have won both games - drawing and narrowly losing - and they will go to Wembley with confidence, although Wigan are top of the Super League table.
There are matchwinners on both sides. For Wigan, they have so many players who can do something special for them.
Everyone knows about what Sam Tomkins can do, George Carmont is having a fantastic year, as is Thomas Leuluai, Sean O'Loughlin is an unsung hero and the kicking game of Brett Finch and Paul Deacon will also be crucial while Ryan Hoffman has been a real asset when it comes to their passing game.
Brent Webb and Danny Buderus need to have big games for Leeds and be involved as do Rob Burrow and Danny McGuire. Rhinos captain Kevin Sinfield is a key player and his kicking game can get Leeds into a threatening position but he needs the support from the big guys like Jamie Jones-Buchanan, Jamie Peacock and Ryan Bailey.
Wigan are a good defensive team and like to be a few scores ahead after the first 20 minutes so the challenge early on for Leeds is to muscle up in the middle of the park and have a good opening to the game themselves and match Wigan.
The speed of the ruck will be crucial because if Wigan get on the front foot and have quick play-the-balls the likes of Leuluai, Michael McIlorum, Finch and Deacon have the speed of play to get them down the field and Sam Tomkins can't do the things he does unless Wigan are on the front foot.
Leeds need to have their best-managed game of the season and be in it after 20 minutes and be able to threaten with kicks or plays but also look after the ball and not be afraid of losing it.
In last year's Cup final, Leeds were beaten early on against Warrington and they will hope not to be caught in the maelstrom like they were 12 months ago.
A lot of pundits believe it will be a blow-out for Wigan but I don't think it will be - Leeds have got too much pride in their ranks.
If I was sitting there, I would rather be in [Leeds coach] Brian McDermott's shoes than [Wigan's] Michael Maguire's. Everyone has written the script for the game and that brings its own expectancies and Wigan have to perform and there is nothing to say they won't but the pressure is on them.
I understand the prowess of Wigan and if I go with my head, Wigan will win comfortably with the form that they are in, but maybe it is the romantic in me that make me think that despite their inconsistencies, Leeds could cause a surprise.
Brian Noble was speaking to BBC Sport's Elizabeth Hudson