Wigan's Sam Tomkins punished for gesture at Leeds fans
Last updated on .From the section Rugby League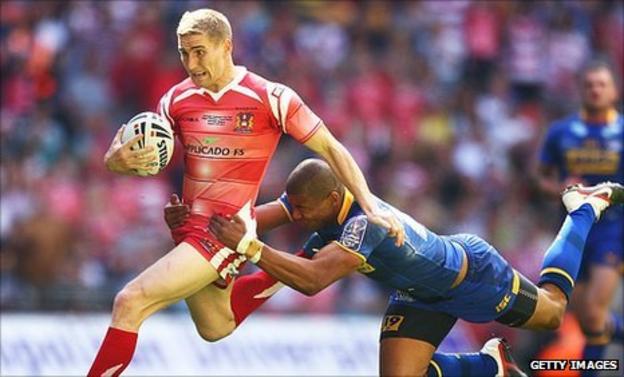 The Rugby Football League has fined Wigan full-back Sam Tomkins £1,000 for an abusive gesture to Leeds fans during his side's Challenge Cup final victory.
The RFL found the 22-year-old guilty of minor misconduct and suspended the fine until the end of next season.
Wigan have also censured Tomkins, who apologised for his actions, and fined him an unspecified amount.
"I apologise for my gesture to the Leeds fans at Saturday's Cup final which I regret immensely," he said.
Tomkins, booed by fans at Leeds when he played for England earlier this year, made a two-fingered sign after Wigan's first try in the 28-18 win at Wembley.
"I got caught up in the heat of the moment of celebrating a try at Wembley but understand that my actions were unacceptable," he added.
"There are no excuses and if I could go back and change things, I would certainly do so.
"I accept the disciplinary action taken by the club and hope my action does not reflect badly on the Wigan club, the coach or my team-mates."
Tomkins initially protested his innocence when asked about the incident after the match.
"Someone else mentioned that to me," he said at the time. "I really don't know what it is."
But after pictures of his gesture were widely circulated, Tomkins informed his club that he wanted to apologise.
Wigan chairman and owner Ian Lenagan said: "We were ashamed at the gesture made to the Leeds fans by a Wigan player, Sam Tomkins, in Saturday's final.
"Sam has come forward today to apologise voluntarily for his immature action which he knows reflects badly on the Wigan club and himself and was disrespectful to Leeds fans generally.
"He is determined to learn personally from the experience which has detracted somewhat from our enjoyment of a great game and a Wigan victory."
The Warriors say they have also apologised formally to Leeds and to Rhinos fans.