Danny Buderus insists Leeds Rhinos can bounce back
By Ged Scott
BBC Sport at Wembley
Last updated on .From the section Rugby League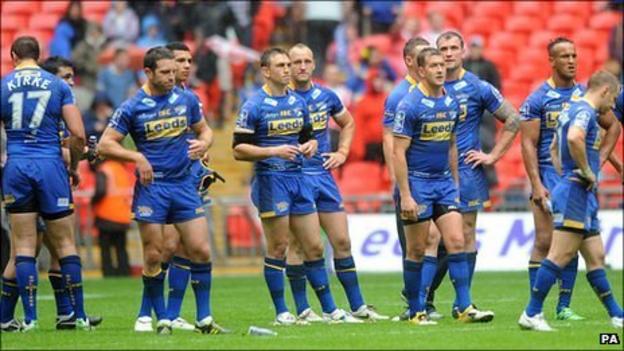 Leeds hooker Danny Buderus insists that the Rhinos can bounce back from their Challenge Cup final defeat at Wembley by performing well in the play-offs.
The Rhinos still need two points to ensure a top-eight Super League finish.
But wins at Wakefield on Friday night, and at Huddersfield on the last day, could yet secure a top-four place and a berth in the semi-finals.
"We can't let this affect us. We've got to dust ourselves off and get ready for a run at the play-offs," said Buderus.
"We're a very strong group, we'll keep inside our bubble and we've just got to concentrate on those last two games and getting in the semis.
"And hopefully we'll get a second crack at Wigan somewhere down the track."
Wigan's 28-18 Wembley victory was fashioned by the Warriors' typically stunning start in which they scored three tries to lead 16-0 inside half an hour.
Leeds then countered well, even getting back to within two points at 16-14 down with 20 minutes to play. But Buderus admits that they simply gave the Warriors too much of a head start, thanks to tries from three of Wigan's usually more unsung heroes, Josh Charnley, Lance Todd Trophy winner Jeff Lima and Joel Tomkins' lung-bursting cracker.
"I guess we were playing catch-up a bit after that," said Buderus. "But the ones we'd trained to counter all week weren't the ones that broke us down today."
Added to that, Leeds were out of luck with the game's two key second-half refereeing decisions.
Lee Mossop got away with a forward pass in the build-up to Lima's second try, while Thomas Leuluai's late match-clinching effort went to a nerve-jangling, long-drawn-out video decision which could have gone either way.
But, with a wry smile, Buderus took it all on the chin.
"We roll with the punches," he said. "The momentum changes with the big calls of any game.
"I don't want to say too much, but this is what you get.
"Everything Leeds get, you've got to fight for."
The experienced former Australia captain also pointed out that Leeds did at least perform a lot better than in last season's poor showing at Wembley when they suffered their biggest-ever cup final defeat - 30-6 to Warrington.
"The worst thing last year was that we didn't give an account of ourselves," he said. "But we got a second chance, which is great.
"We showed we're still up there with the top teams. The question is what we've got left."
As for Buderus himself, at the age of 33, the seasoned New South Wales-born forward, in his third season with Leeds after signing from Newcastle Knights in 2008, admitted that there may not be too many opportunities to get back to Wembley.
"It's probably my last chance," said Buderus, who has a year left on his contract and has already received an approach from his old club Newcastle. "But anyone who gets a run out there always knows it could be their last chance to play here.
"That's the magic of the place. You never know when you're going to get another chance and I'm very privileged and lucky to have played here two years running."