Wigan's league and cup double still on - Maguire
Last updated on .From the section Rugby League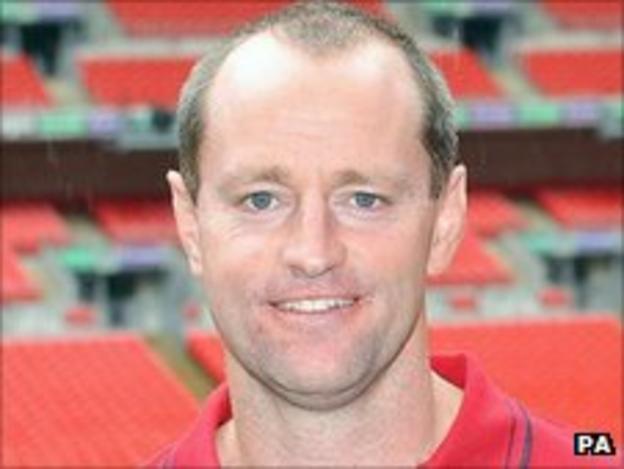 Wigan coach Michael Maguire insists that the 'double' is still on despite their 26-18 play-off loss to St Helens.
The Challenge Cup winners must now take on in-form Catalan Dragons in this Sunday's preliminary semi-final.
If they get through that, just like last year, Wigan will have to play successive weekends to reach the Grand Final at Old Trafford on 8 October.
But Maguire told BBC Radio Manchester: "The double is something we've worked for way back when we first started."
Having raced into a 14-0 lead at the DW Stadium, despite Wigan's late rally, Saints hung on for their first win in six derby meetings.
That has now left the Warriors facing the same problem experienced by Warrington for the last two years (and Saints for the two years before that) of how to counter the post-Wembley hangover.
The reigning Super League champions spent the latter part of the season on top of Super League on the back of a club record 12 straight wins.
Having missed out on the League Leaders' Shield by getting hammered 39-12 on the penultimate weekend of the regular season, they have now lost two of their three games since the Challenge Cup final victory over Leeds at Wembley. But Maguire insists that his team are still capable of winning three straight matches in 13 days to retain their Super League crown.
"We've shown some great form throughout this year, particularly against all the top teams in the Challenge Cup," added the Wigan coach.
"And it's about making sure we do what's in our control.
"You can talk about all those things with the Cup. But, at the end of the day, that's an excuse.
"We've got a big chance in front of us, where we need to play the way we are capable of and continue on with what we're doing here."
Wigan at least know they are capable of winning the Grand Final without a week's break as they did just that only a year ago, losing their qualifying play-off at home to Leeds, then beating them again in the rematch at Headingley a fortnight later.
And Maguire, who returns to the NRL to join South Sydney Rabbitohs at the end of the season, is not worried about his team's form - if only they can cut out individual errors.
"It's about errors, penalties and simple things that put pressure on yourselves," he said.
"Saints obviously capitalised when we made those errors and gave away penalties and put pressure on us.
"We showed some really good signs with our attack and we just need to make sure we stick to those things we do well."