York City Knights on verge of announcing new signings
Last updated on .From the section Rugby League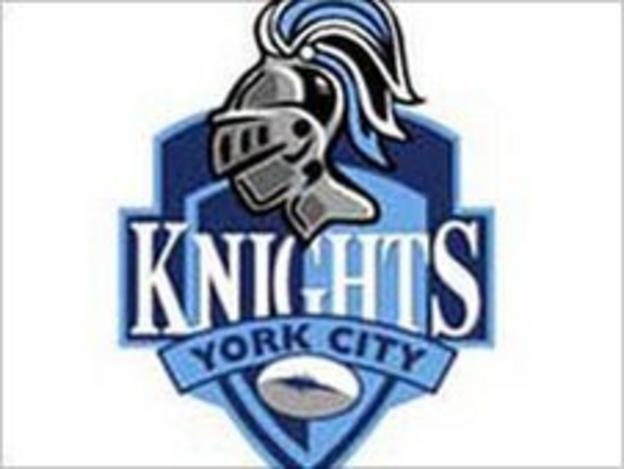 York City Knights are close to new signings, despite not knowing which division they will play in next season.
The Knights' relegation from the Championship is still to be confirmed, depending on what happens to Crusaders.
But so far, starting with hooker Jack Lee and utility man Ed Smith, they have agreed deals only for existing staff.
Player/assistant coach Chris Thorman has signed a new one-year deal, while last year's captain Alex Benson will stay with the club for another season.
The 26-year old prop will be in his third season with the Knights, as will Thorman.
"Chris Thorman has signed," general manager Ian Wilson told BBC Radio York. "It was never in doubt.
"It's all done and dusted. He'll be with us regardless of what happens with promotion and relegation."
As for what targets York have in mind, Wilson admitted: "We're kind of putting things in place for both divisions. But it's a little bit frustrating at the moment just not knowing.
"If we didn't do anything, or just assumed we were going to get relegated, we'd potentially miss out on targets that we're looking at.
"We're hopeful that we're going to get a positive decision soon.
"In certain instances, we've offered two different contracts, one based on staying up and one based on going down.
"Some we've just kept the same contract on the table for both divisions, and then others, we've had to put some kind of clause in there basically subject to our Championship status.
"We've now spoken to everybody in the current squad and we're hoping to make some announcements in the next couple of days, as well as one or two new signings which we're there or there abouts with.
"With the difficulty of not knowing what division we're going to be in, that's the only reason why things haven't been announced yet."