Tomkins, Chase and Roby on Man of Steel shortlist
Last updated on .From the section Rugby League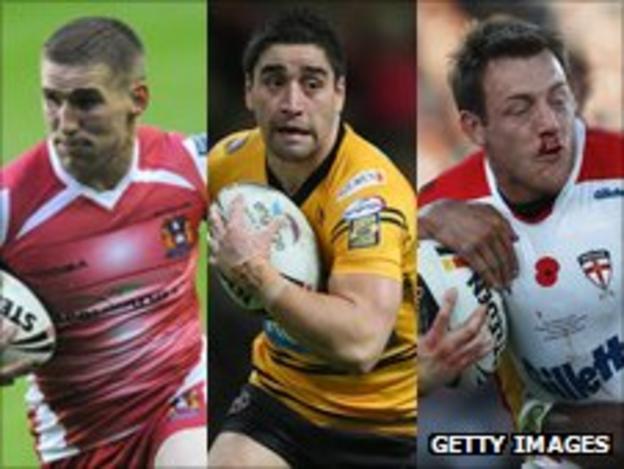 Wigan full-back Sam Tomkins, Castleford stand-off Rangi Chase and St Helens hooker James Roby have all been shortlisted for this year's Super League Man of Steel award.
Tomkins, Young Player of the Year in 2009 and 2010, may succeed last year's winner, Wigan team-mate Pat Richards.
But he faces stiff competition from Roby, who won the award in 2007.
And Chase, outstanding for Cas this season, played a key role in the Exiles' victory over England in June.
All three were also named in this season's Super League dream team, announced last week.
Tomkins, Super League top try scorer so far this season with 27, was also shortlisted for the Man of Steel award a year ago, along with Richards and Warrington skipper Adrian Morley.
The Man of Steel award is decided by a secret ballot of every Super League player, who are each allowed to cast three votes on a 5pts, 3pts, 1pt basis.
This year's winner will be presented at a dinner in Grand Final week in Manchester on Monday 3 October, when awards for Coach of the Year and Young Player of the Year will also be presented.
The award has been presented since 1977, when Leeds skipper David Ward was the first winner.
The only Cas player ever to have won it before was Aussie loose forward Adrian Vowles in 1999.
Roby, who won it in 2007, is one of seven Saints players to have won the award, George Nicholls (1978), Sean Long (2000), Paul Sculthorpe (2001/2002), Jamie Lyon (2005), Paul Wellens (2006) and James Graham (2008).
But Wigan have had eight recipients, Richards last year following George Fairbairn (1980), Ellery Hanley, the only three-times winner (1985 (with Bradford)/1987/1989), Shaun Edwards (1990), Dean Bell (1992), Andy Platt (1993), Denis Betts (1995) and Andy Farrell (1996/2004).