Play-off system frustrates Warrington coach Tony Smith
Last updated on .From the section Rugby League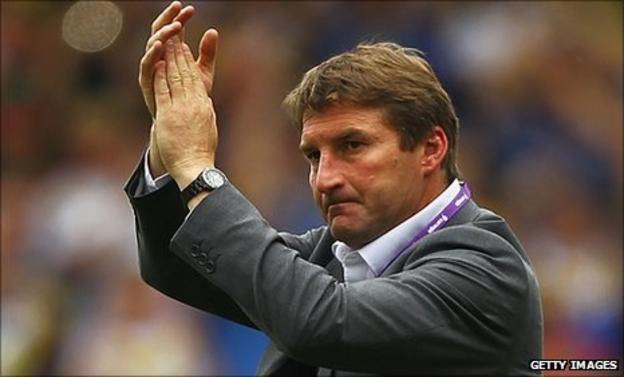 Warrington coach Tony Smith says the 'Club Call' system is just a confusing element of the Super League play-offs.
"It's hard to explain how our final series works and to add a pick into it, I just think it adds confusion," Smith told BBC Radio Merseyside.
"We got the lowest-ranked winner of the weekend and it didn't really surprise a whole lot of people."
He added: "Leeds are a very good team with a lot of experience in finals and we're a team which hasn't had lot of experience in finals but are doing OK.
"We're learning some pretty good lessons along the way, so we're looking forward to the challenge."
Warrington ended the season top of Super League and and lifted the League Leaders Shield, but Smith says that all counts for nothing if they fail to prepare correctly for their game against the Rhinos.
"[It's only a problem] if you start to believe and think that your invincible, and we're certainly not going to do that," Smith continued.
"We understand that on any given day, any rugby league team can win and if the other isn't mentally prepared and on their game, then you're going to get beat. That's a guarantee in our code."
The Wolves are boosted with the news that captain Adrian Morley is back in the squad after recovering from an eye injury, which has plagued him for the past four months.
"My eye is fine so I'm good to go," said Morley.
"My match fitness isn't where it should be as I missed about 12 weeks and played only one or two games. But I think the adrenaline will get me through.
"It's just great be back playing and it's been a frustrating time for a while."