Aussie hooker Danny Buderus confirms Leeds departure
Last updated on .From the section Rugby League
Leeds veteran Danny Buderus will bow out of Super League with a shock Grand Final appearance at Old Trafford next Saturday night after confirming that he is to return Down Under.
The ex-Australia Test hooker revealed in July that he had been approached by his old club Newcastle Knights.
And he confirmed after Friday night's thrilling play-off win at Warrington that he is to take up that offer.
"To go home with an appearance at Old Trafford is a dream script," he said.
"It's been going on for a while behind closed doors and I've got to thank the Rhinos for their patience and for allowing me to finish off my career at my hometown club.
"But we now want to go to Old Trafford and win it. We've got some momentum and that makes us a dangerous team.
"I've enjoyed everything about the Rhinos and my English experience. I've brought my two kids up here and I've loved my time here. And to finish on this note will put me in good stead for the next couple of years of my career."
Buderus missed the last of the Rhinos' three consecutive Old Trafford triumphs in 2009 because of a broken leg and was in the side that lost to eventual champions Wigan in the semi-finals 12 months ago.
He also tasted defeat in back-to-back Challenge Cup finals at Wembley but is confident he can end his three-year spell with a major trophy.
"I got really worked up for the two Wembley experiences and, looking back, it probably wasn't the right thing," he said. "It didn't go to plan.
"Now everyone is really relaxed and enjoying the ride. We're all in a confident mood and that's what makes it fun."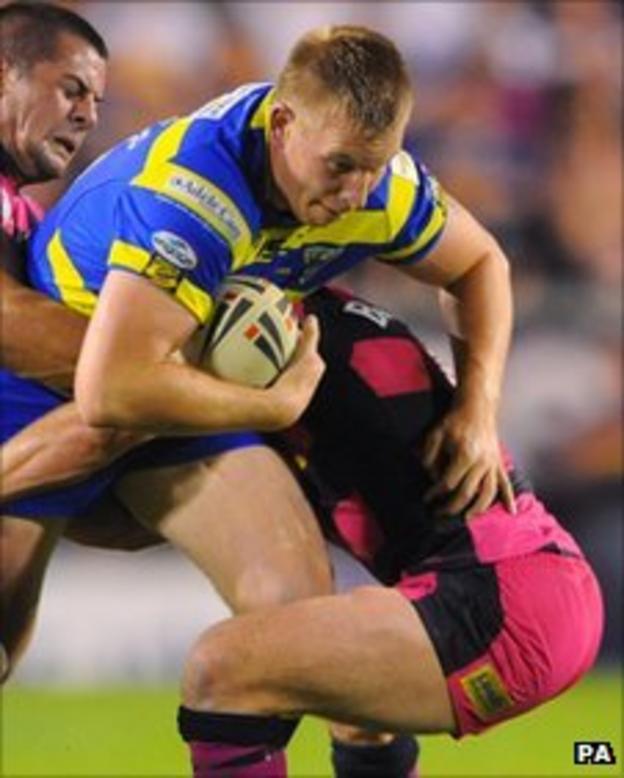 Buderus, who is in his third season at Headingley, was contracted to stay for another year, but he is being released from the final 12 months of his current deal to enable him to finish his career with his old club under new Knights coach Wayne Bennett.
He went into Friday night's game knowing that it might be his last for Leeds. But, instead Buderus got his chance of this unexpected fairytale finish after helping the Rhinos to a 26-24 victory over Warrington in a gripping semi-final at the Halliwell Jones Stadium.
In completing the in-form Rhinos' fifth straight win, against the favourites, this season's Super League table toppers, Buderus helped Leeds become the first club from outside the Super League top three to reach the Grand Final.
Leeds showed earlier this week that they were already preparing for the potential departure of Buderus by signing up young hookers Paul McShane and Liam Hood on new four-year deals.
While he prepares to bow out of Super League, former Kangaroos captain Buderus is urging the RFL to act to prevent an exodus of talent to Australia.
While Buderus is entering the twilight of his career, ready to play one final season with his old club Newcastle Knights, St Helens joint skipper James Graham is arguably at his peak as he prepares to try his hand with Canterbury Bulldogs in the NRL, where he will join England team-mates Sam Burgess and Gareth Ellis.
"From an English point of view, you don't want your best players out there," said Buderus. "The whole focus should be put on Super League and making this competition the best it can be. You need to keep those sort of players here."