'Special day' for Daryl Powell's Featherstone Rovers
Last updated on .From the section Rugby League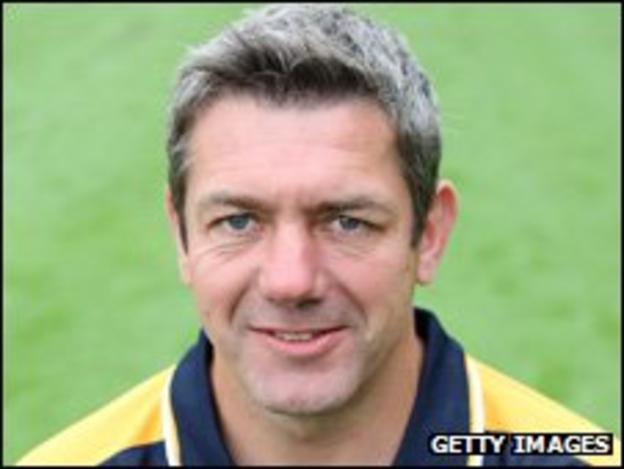 Featherstone Rovers coach Daryl Powell hailed Sunday's Championship Grand Final win over Sheffield Eagles as one of the best moments of his career.
"I've been involved in some big games in my career but I can't say any have meant more than this," the former Great Britain centre told BBC Radio Leeds:
"It's a special club and this is a special day for us," added Powell.
"It was an immense game for me as a coach, the club and for the players."
Featherstone suffered Grand Final heartbreak on the same ground 12 months ago when, having topped the Championship table all season, Rovers missed out when Halifax snatched victory with a golden point extra-time drop goal.
But there was no danger of a repeat performance as Rovers dominated from start to finish, man of the match Liam Finn running in two tries and kicking six goals as Featherstone demolished Sheffield, who had come through three play-off games to reach the final.
"These are the days you enjoy," said Powell, who made his name in rugby league with the Eagles in the mid-1980s. "You feel as though you've done something pretty special.
"We sat there last year and had a few beers and you've got an empty feeling about you.
"You wake up the next morning and it's still there, and it was even worse the day after that.
Rovers captain Stuart Dickens said: "It feels great. There's no better feeling because you play the game for occasions like this.
"We'd not spoken about last year but it is an issue and it is on your mind, and you don't want to come back and here and get the same result.
"As captain, you can't describe the feeling to pick that trophy up, look around and see the following we've brought and look down and see all the boys underneath.
"We spoke before the game and said that as a team there's going to be a couple of players going and coming.
"It's the last time we were going to play together and how did we want to be remembered, and this team will be remembered as champions now."