Keighley Cougars coach Jason Demetriou hails new era
Last updated on .From the section Rugby League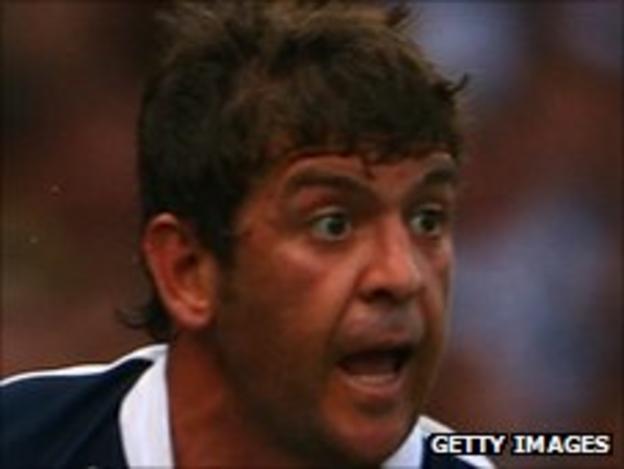 Keighley Cougars player-coach Jason Demetriou believes that winning promotion back to the Championship is just the start of things to come.
The 35-year-old guided Keighley back into rugby league's second tier thanks to a 32-12 victory over Workington.
He told BBC Radio Leeds: "I get to coach at a higher level but it's what it means for the club and players.
"I believe the players are Championship standard at least and they've got a chance to prove that now," he added.
"We've got awesome training facilities sorted for next season, everything off the field is in place and we're going to have a real professional set-up down at Keighley, and that's going to help the players flourish."
Demetriou took the Cougars back into the Championship at the first time of asking, and more impressively in his first coaching role.
"I thought in the first half we were faultless.
"We said to get at Workington stand-off Darren Holt to stop his kicking game, and they didn't have a Plan B.
"I thought everything we did in the first half was bang on and it showed everybody how good a team we are.
"I'm really proud, but this is about the players, what they wanted and how they went about achieving it.
"The whole week has been awesome. I said to the coaching staff that not only did I think we'd win, I thought we'd win well and thankfully I was right."
The game could mark Demetriou's last as a player, the former Wakefield captain having confirmed that he was considering hanging up the boots.
"I've got a holiday with my wife away for two weeks and I'm going to see how the body feels," he added.
"The hard thing is that my salary goes against the salary cap and that restricts me in terms of getting more players, so that's an issue I need to look at."