Leeds Rhinos' Brian McDermott a 'beacon' for British coaches
By Shamoon Hafez
BBC Sport
Last updated on .From the section Rugby League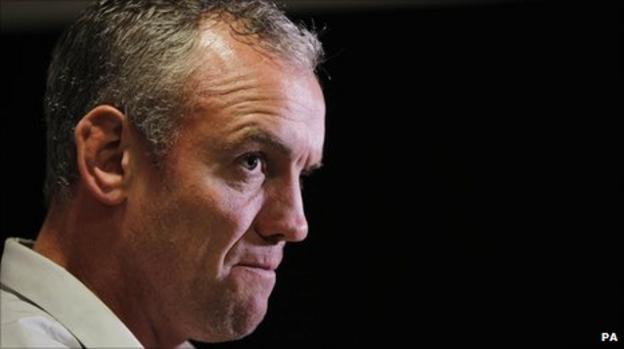 Brian McDermott wants to be a role model for other British coaches after leading Leeds Rhinos to the Super League Grand Final in his first season in charge.
The Rhinos face St Helens on Saturday, having beaten their rivals at Old Trafford in 2007, 2008 and 2009.
The last Englishman to coach a Grand Final team was Brian Noble, who coached Bradford Bulls to victory in 2005.
"I'd like to be a beacon for British coaches," said McDermott, 41.
"But I'm really proud to be involved with a club that has the integrity this one has and which has showed so much composure throughout difficult times. Not much recognition is given to those that keep faith.
"I think there are lessons that need to be learnt from people that own Super League clubs, the chairmen and chief executives."
The Rhinos finished fifth in the table but beat Hull FC, Huddersfield and league leaders Warrington in the play-offs to reach Old Trafford.
They also made it to the Challenge Cup final, losing 28-18 to Wigan at Wembley.
But McDermott endured a difficult start to the 2011 campaign, winning only half of his first 12 games.
The former Royal Marine, who left his position as coach of Harlequins to join Leeds, insists that he has no desire to show his critics they were wrong to doubt him.
"I've said all year we don't use that as a form of motivation," he said. "I think there are far bigger things to worry about than proving people wrong.
"I'm just proud to be here, proud of the players and proud for the club.
"I'm sure there are a few people who have had a change of opinion over the last six or seven weeks but I wouldn't know who they are."
The former Great Britain prop, who won three caps during the 1990s, says he was always confident his side would challenge for trophies this season.
"At no stage have I thought that we wouldn't be able to do what we have done," he said.
The Leeds coach also insists that the Rhinos' past Grand Final victories over St Helens would count for little on Saturday.
"I don't know whether they will be using the previous Grand Finals as a form of motivation for themselves but we won't be," said McDermott.
"We won't be relying on anything that has happened three or four years ago. Our motivation and our strength will be how we have been playing at the moment."
McDermott, whose Grand Final success with Bradford as a player came against Wigan in 2001, is looking to draw on that memory against Saints.
"I was over the moon when we won the Grand Final," he said. "I probably didn't come back down from the high for about three or four months. I was on such a high it was brilliant.
"I don't know what it feels like to win the Grand Final as a coach but I'll hopefully let you know on Saturday."