Wolves will bounce back from Super League failure - Smith
Last updated on .From the section Rugby League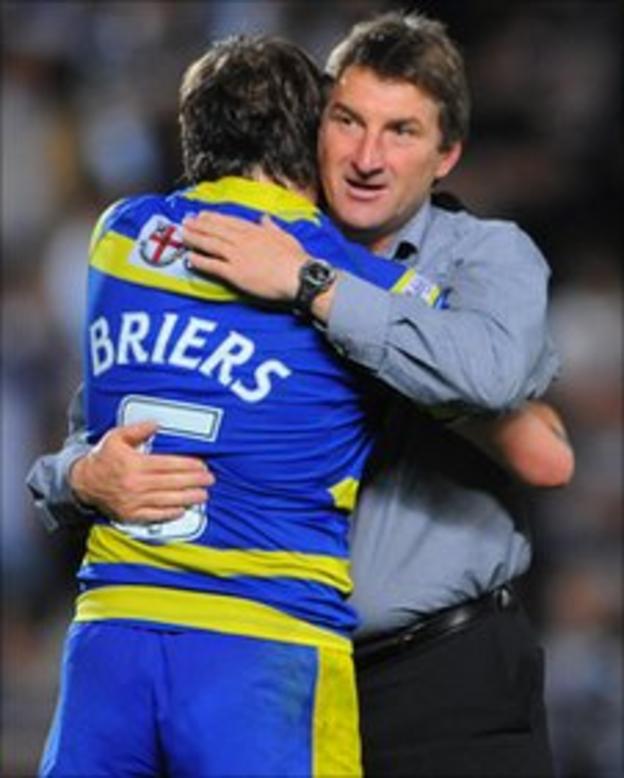 Warrington coach Tony Smith vows there will be "happy times again" at the Halliwell Jones after the heartbreak of going so close to a Super League title.
After leading for a good proportion of the season, the Wire looked nailed on for a first Grand Final appearance, only to slip up against Leeds.
But Smith insists: "We'll have some happy times again. We won't sit around sulking, feeling sorry for ourselves.
"We'll be better for it next year and even more determined to get it right."
Right up until the last minute last Friday night, Smith was still hopeful of returning to Old Trafford, where he coached Leeds to two Grand Final victories in 2004 and 2007. But a tough late call offside allowed his former captain Kevin Sinfield to land the winning penalty.
And, although Smith also had cause to bemoan his luck following the disruption caused by the first-half loss of full-back Brett Hodgson, he did not make excuses.
"It hurts you and affects your rotation. But I won't go as far saying that was the turning point.
"We were in a pretty good place mentally. We just weren't good enough on the night and paid a price.
"We'll have an end-of-season review, like we always do, then look forward to another cold pre-season."
Smith's plans for next season are already in place, following the signing of Stefan Ratchford from Salford, along with two new forwards, Australian Trent Waterhouse and Leigh's Chris Hill, to replace outgoing trio Matt King, Louis Anderson and Jon Clarke.
"We're losing three pretty special people in Matt, Louis and Clarkey," added Smith. "Clarkey will be just down the road at Widnes, but the other two are moving a bit further away, while we might see Louis a couple of times next season with the Catalans.
"They were champions on and off the field, and they'll be missed in all sorts of ways."
Warrington were also pleased that Hodgson did not have to undergo an operation on his injured ankle, a scan having shown it to be no more than torn ligaments.
And Smith was also relieved to see England forward Ben Westwood make such a positive impact on his return from injury against Leeds.
"Ben Westwood sure did not look like a player who has missed six weeks," said Smith. "He's a fantastic player, who will get better and better."
But the Warrington coach's main target next season will be making the slight tweaks needed to become Super League champions.
"We finished first in the competition," he said, "and we've been the best team for long periods of the season. We just didn't make it over the final hurdle, or rather the last two hurdles, as, even if we'd beaten Leeds, we'd still have had another hurdle to jump.
"We've made progress as a club on and off the field and we've come a long way.
"It's hard to see it when the tears are in the eyes, but we'll kick on.
"We've gone further this year than we've gone before. We just can't claim that medal of champions yet."