Wembley an inspiration for Leeds Rhinos - Rob Burrow
Last updated on .From the section Rugby League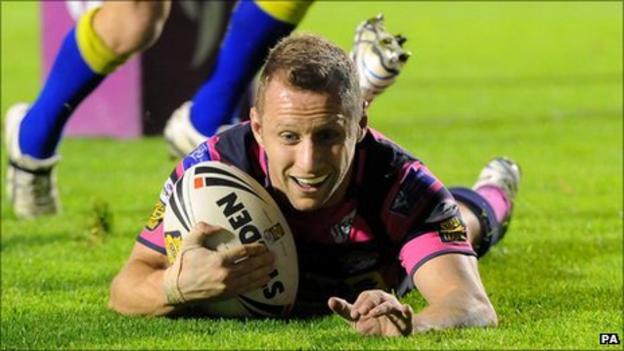 Leeds scrum-half Rob Burrow has admitted that their Challenge Cup final defeat six weeks ago helped to inspire the Rhinos' return to Old Trafford.
He told BBC Sport: "Although we didn't get the result we wanted against Wigan, Wembley was certainly a big factor.
"The emotion of being involved in a final must have triggered something."
Leeds fell just short at Wembley, coming back from 16-0 down to within two points after Burrow appeared from the bench, only for Wigan to seal a 28-18 victory with a controversial late try.
But, having then not even been certain of a top eight finish, Leeds bounced back to win their last two league matches of the regular season to ensure a final place of fifth in the Super League table.
They have since gone on to make it five wins on the trot to return for a fourth Grand Final clash against Saints in five years.
"We've picked up our form and played a lot better since Wembley," said Burrow.
"We did not have the best start this season. We were up and down and put in far too many poor performances.
"But Jamie Peacock and Danny McGuire coming back from injury helped and we have too many good players not to be involved in the big games."
Even then, Brian McDermott's side still had get past league leaders Warrington, who had hammered them home and away during the league campaign.
But, with Burrow once again doing the business when he came off the bench, scoring the third Leeds try which brought them level, the Rhinos prevailed thanks to Kevin Sinfield's harshly dramatic late penalty.
"We knew we had to go and beat the best team in the league," said Burrow. "But we knew that, if we played anywhere near our best, we could compete.
"It was always a big ask from fifth but we were confident of what we could do. And we got a huge confidence boost from beating Warrington.
"Saints have been consistent all year. They've kept under the radar, winning games like they usually do, but we're confident in what we can do."
Burrow has started all Leeds' last four visits to the Grand Final. But he came off the bench when they won the trophy for the first time against Bradford in 2004 - and, although he, like many a Leeds fan, might not be totally convinced by coach McDermott's thinking, he is happy just to be back at Old Trafford.
"Everybody wants to prove a point wherever they play," added Burrow. "Whether or not I'm starting, I'm out to do the best job I can.
"In the role I've been given, I do what's best for the team and, if I can add something from the bench, then that's great."