Barrow relegated by the RFL after points deduction
Last updated on .From the section Rugby League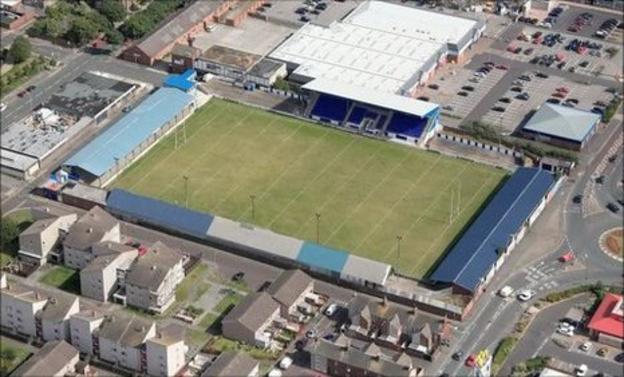 Barrow Raiders have been relegated to Championship One, after the Rugby Football League deducted the club 29 points at Thursday's tribunal.
The Operational Rules tribunal ruling was enough to send the Raiders down, while chairman Des Johnston has been banned from the sport for eight years.
Raiders were charged with breaching the salary cap in September, following an investigation by the RFL.
Both parties have taken legal advice and been advised to make no comment.
The tribunal's decision secures the status of Dewsbury Rams as a Championship club for the 2012 season.
RFL chief executive Nigel Wood says the punishment should serve as a warning to clubs that do not adhere to the league's operational rules.
"Whilst it is unfortunate that Barrow sought to cheat in the way they did over such a sustained period of time and went to such lengths to hide this behaviour, this action demonstrates that the investigative systems and checks we have in place do work," Wood said.
"It became clear during our investigation of Barrow that some aspects of their business activity were remiss and we are still evaluating some of the information that was provided to us during that inquiry."
All of the infringements took place between 2007 and 2011, and relate to Raiders' 'systemic breach' of the following three rules:
Rule C.1.1.7 - failing to record in player contracts all financial benefits or benefits in kind that a player is receiving;
Rule C.1.1.11 - no club or club official shall loan money or goods or make payment or provide any benefit in kind to a player unless they are recorded in the player's contract;
Rule D1.8 (f) - misconduct by committing a breach of Championship Salary Cap Regulations.
Relegation from the Championship marks the end of a successful era for the Craven Park club under Johnston, and leaves a question mark over the club's future in his absence.
Following promotion from Championship One in 2008, Raiders added Super League players such as Jamie Rooney and Ned Catic to their squad, and were minor premiers and Grand Final winners in 2009.
That success enabled the club to apply for a Super League licence, although their application was rejected as they failed to meet the required criteria.
Johnston has long been the major financial benefactor, and warned supporters that cuts would need to be made prior to the recent penalties if further supplementary funding was not obtained.
An initial six-point penalty for breach of the salary cap from the 2010 season was imposed on Barrow in July of this year, and ended their play-off hopes prematurely.
However this latest deduction, and subsequent suspension for Johnston leaves Barrow on uncertain ground as they potentially seek new ownership, and to bolster a depleted squad with senior players such as Michael Knowles, Jamie Thackeray and Liam Harrison close to or already departed.