Brian Noble on Leeds v St Helens
By Brian Noble
BBC match summariser
Last updated on .From the section Rugby League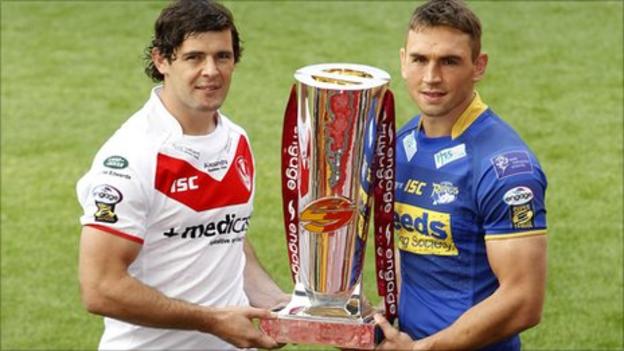 I know people are bleating about the two best teams not being there at Old Trafford.
And there's no two ways about it, Warrington have been the most attractive team to watch in Super League this season. But we've been having this argument now for the past 15 years.
And having the play-offs just means a lot more great games to watch. Can anyone say they would not have wanted the chance to see that Warrington-Leeds games last Friday night?
The fact of the matter is that it should still be a cracking final on Saturday night. And I'm so pleased for Leeds - and Brian McDermott - that they're there.
I've known Brian a long time. In fact, we even played together in my final season at Bradford, when I was an old cranky 35 and he was an up and coming 20-year-old.
Even then, he had something about him that suggested he would one day have leadership qualities and led me to think that I might want to keep an eye on him - and that's how it's proved.
He did not get off to the best start at Leeds. They had injuries, they were badly missing Danny McGuire and Jamie Peacock and then they lost Keith Senior, who has so often been their 'go-to' man and people said could not be replaced.
They weren't getting results and people were asking questions as to whether he was good enough.
But Brian's a strong character and, since they won the Challenge Cup semi-final against Castleford, the season has turned for them. It's funny how often that can happen in this game, and, following the way they came back against Wigan at Wembley, their confidence is now clearly high.
McGuire and Peacock have both come back and found their form after injuries that some can take 12 months to get over and had a big impact.
Peacock, another one who played for me at Bradford, is immensely strong, as he's shown over the last few weeks.
And, in Kevin Sinfield, they have a man who can change the course of any game with his kicking, whether out of the hand, or off the deck, as he's shown so often in the past.
The question for Leeds is whether they can go to the well one last time.
Saints have also had their injury problems of course. But, on Saturday night, there will only be Josh Perry and Chris Flannery missing from their first choice starting line-up.
And they have looked in pretty good shape now for the last 10 weeks or so.
Leeds will have to find some way of dealing with James Graham, James Roby and Tony Puletua, as powerful a front row as there is in rugby league, but that is also one of Warrington's big strengths and the Rhinos coped all right against the likes of Ben Westwood and Adrian Morley last Friday night.
It may be a case of how Leeds cope against Jonny Lomax and Lee Gaskell at half-back for Saints. They must be the two finds of the season.
The weather could also play a big factor. If the wind gets up and it's raining again, then that could once again play into Leeds' hands as it did when they've beaten St Helens at Old Trafford before.
But, if the weather stays fine, then it should be a fabulous game.
And, if that's the case, then I'd just give Saints the edge.