England captain Jamie Peacock sympathises with Saints
Last updated on .From the section Rugby League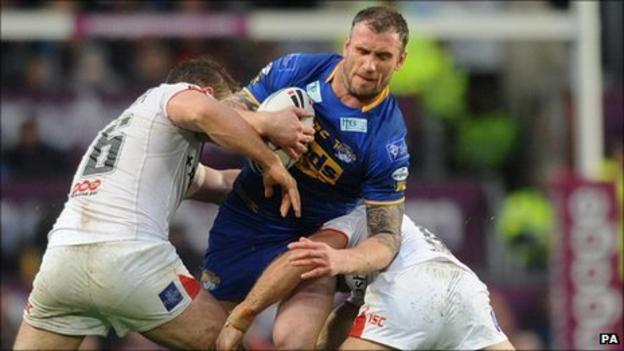 Leeds legend Jamie Peacock improved his own record by earning a seventh Grand Final victory at Old Trafford.
But the England captain sportingly showed real sympathy for the losers after being part of Leeds' fourth Grand Final win over Saints in five years.
"Some of their players deserve better than that," Peacock told BBC Sport.
"I feel horrible for them. They deserve winners' medals. I've real compassion for them. But that's sport. The highs are high and the lows are very low."
After playing alongside Leeds coach Brian McDermott when Bradford won their first Grand Final in 2001, Peacock, who will now pitch up alongside several of those beaten Saints players on England duty later this month, knows that he has had more than his fair share of highs.
Admittedly, he has twice been a Grand Final loser - for Bradford against Saints in 2002 and then against Leeds in 2004. But they came sandwiched in between two more wins with Brian Noble's Bulls in 2003 and 2005, followed by his four triumphs now with Leeds - all against Saints.
And the 33-year-old battle-scarred veteran admits that, having started the season in the treatment room following a potentially career-threatening knee injury, in a team under a new coach and written off by many, this latest Leeds triumph means the most.
"It's a team sport," said Peacock modestly. "And I'm lucky to have played in two such great teams.
"But, right now, this has to be the best one.
"It's an unbelivable feeling, of overwhelming jubilation, as I thought we were down and out.
"To come from fifth, and then come from being 16-8 down with 20 minutes to go in the final, is so special. It was a whole season in one game really.
"I thought we had them at half-time but credit to Saints. They came back and I thought they had us beaten. But we never stopped trying.
"And it just shows the character and skill of the players. There's so many great players in our dressing room, but no big egos. That's what makes us a team."
Leeds' luckless Challenge Cup final defeat at Wembley in late August, when they fought back from 16-0 down to take the game to Wigan and might have won, but for two key refereering decisions both going against them, proved a real turning point in their season.
But Peacock also points to a 38-18 routing by Catalan Dragons over a month earlier as the moment when they started to get things back on track under McDermott.
"From my experience, players know when something is going right," said the England skipper, who is now champing at the bit for the Four Nations later this month. "From the Catalans game, we changed things round and we knew we were solid and playing better every week.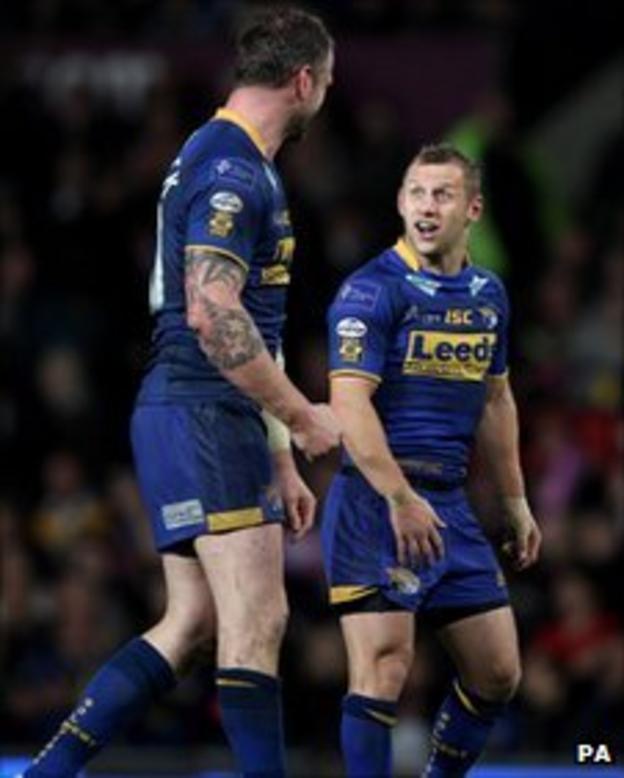 "We knew we were doing something right. The experienced players in the side felt that, which is why, coming back from Wembley, we still felt so positive.
"We hadn't even definitely made the top eight and qualified for the top eight then, but the way we have come back has shown real resilience.
"It's not how many times you got knocked down, it's what you do when you get back up again. This team has epitomised that."
And Peacock, whose ninth Grand Final appearance (along with that of Saints' Paul Wellens) equalled Leon Pryce's record, was quick to lay the praise at the coach's door.
McDermott was even booed, by an admittedly limited section of the crowd, when Leeds returned from Wembley to play their final game of the regular league campaign, the 64-20 stuffing of local rivals Wakefield - just five weeks ago.
"I can't believe people booed him," said Peacock. "He's a brilliant coach and a fantastic guy as well.
"And what we have achieved is down to him more than the players.
"For the standards he's set, and the environment he's created to work in, he deserves all the credit he gets. He's the reason why the lads were able to show the character that we did."