Keith Senior keen to stay in Yorkshire
Last updated on .From the section Rugby League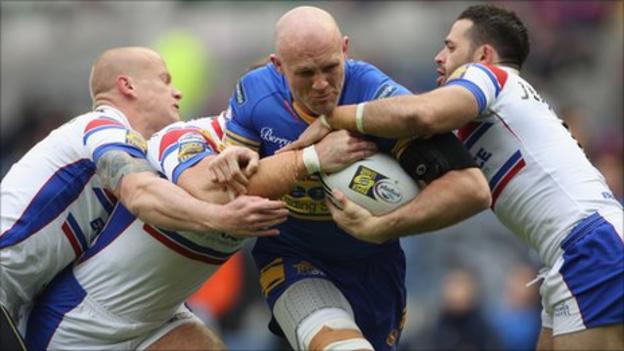 Leeds veteran Keith Senior admits he is keen to stay in Yorkshire as he weighs up his options following the collapse of his mooted move to Crusaders.
The former Great Britain centre, who has the option to remain at Leeds, has had offers to play French rugby union.
But the long-serving Rhinos legend, 35, would prefer to stay closer to home.
"It's been speculated about French rugby union, which is an option, but I'm a Yorkshireman and I'd like to stay at home," Senior told BBC Radio Leeds.
"Irons are in the fire, but it has to be right not only for me but for my family, so it's a decision that's not going to be taken lightly.
"The last time I rushed into a contract it got terminated two weeks later.
"The options are there but the clubs don't want it broadcasting because everything's at the early stages really."
After 12 years' service for Leeds, following his move from Sheffield Eagles in 1999, Senior's 13th season at Headingley proved unlucky in May, when he was ruled out for the rest of the campaign with a cruciate knee ligament injury.
He was then out of luck again in July when, less than three weeks after signing for Crusaders, the Welsh side announced their intention to leave Super League, leaving him high and dry - and extremely angry.
Wakefield Trinity Wildcats immediately came in with an offer, but their coach John Kear has since left to take over at Batley, to be replaced by former Hull coach Richard Agar.
And, with the odds of him being kept on at Leeds lengthened by the publication of his outspoken autobiography 'The Bald Truth', Senior is awaiting his next move.
But Leeds chief executive Gary Hetherington, who first signed Senior as a professional in his days at Sheffield Eagles, insists that there is still a role on offer for him as part of coach Brian McDermott's squad at Headingley.
"We offered Keith a one-year deal for 2012 before his injury," said Hetherington. "At the time, Brian McDermott did explain to Keith that the club would be stepping up its search to find a 'Keith Senior replacement' and, if he stayed, he would have to fight for his place like all other players.
"As we know, Keith later signed for Crusaders with our best wishes, but this, unfortunately, was to fall through and Keith's situation is made more complicated because of his knee reconstruction.
"We will continue to look after him and all his rehabilitation until he is fully recovered and Keith has also been offered a job to work for the club at the expiry of his playing contract and a pay-per-play contract for 2012, which he is still considering.
"If he was to get a better offer from another club, he would also have the option to take it up.
"This type of arrangement and support is typical of what Leeds Rhinos would provide for any of its players who have given long and outstanding service and Keith certainly falls into this category.
"It has been disappointing, therefore, to read some of the implied criticism of the club's handling of this situation as we take great pride in the support we give to all our players and Keith is no exception."