Jamie Peacock "proud" to lead England in Four Nations
Last updated on .From the section Rugby League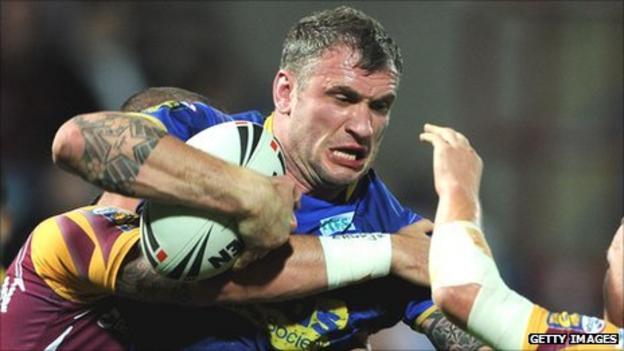 Jamie Peacock is revelling in the prospect of captaining England in the Four Nations this autumn just 10 months after believing his career was over.
The Leeds prop feared the worst after aggravating a serious knee injury at a pre-season training camp in January.
But he returned to action in April and was reappointed as England skipper for the International Origin match in June.
"I'm proud to be captain again," said Peacock. "I think it's the greatest playing job in this country."
Peacock comes into the Four Nations tournament off the back of an ultimately successful Super League season, which saw the Rhinos transform a disappointing fifth-place league finish into Grand Final success courtesy of a 32-16 win over St Helens at Old Trafford.
However, this is a far cry from the start of the season, when Peacock found himself facing a potential end to his playing days after a bike-riding accident during a training camp in North Yorkshire.
"Usually I'm a pretty positive person, but I'll tell you that one day really stands out for me as the darkest moment," admits Peacock, as he recounts the horror moment in his struggle to recover from a cruciate knee ligament injury that he suffered in August 2010 and had caused him to miss the Challenge Cup final, the play-offs and England's Four Nations trip down under that year.
"We went for a pre-season training camp in North Yorkshire. I was struggling with my knee anyway.
"We decided to go for a bike ride and I thought it would be mostly on the road, but it was all off road and it absolutely shattered me. Then I came off over the handle bars and my knee just blew up again.
"I can remember I sat in the youth hostel afterwards and I was nearly in tears, thinking this is it. I can't see myself coming back from this. It's just getting worse and worse anyway and I've gone and done something stupid because of a bit of bravado going on a bike ride when I couldn't do it.
"It was a pretty lonely place because there was no mobile phone connection and I didn't want to tell anyone in the team. I was just sat watching the lads playing pool and thinking this might be it.
"It was pretty sad because I was tired and that can make you pretty emotional. That was a big moment."
However, after several more gruelling months in the gym, Peacock returned fully fit in April and he feels this could benefit England during the Four Nations.
"I think you play your best rugby between 20 and 30 games and I'm in that period now," he said. "Normally I'm at the back end of the 40 mark, so hopefully I can produce my best football for this tournament."
Peacock also believes this current England squad is good enough to give tournament favourites Australia and New Zealand a real run for their money after making a first assessment of his team-mates in the pre-tournament training camp.
"I looked round and thought 'wow, this is going to be a good group this.'
"It's as good as I've seen. A real blend of youth and experience and the overseas players playing in the NRL. I'm liking the looks of it, definitely."
England's Four Nations Series squad: Carl Ablett (Leeds), Ryan Bailey (Leeds), Tom Briscoe (Hull), Garreth Carvell (Warrington), Rangi Chase (Castleford), Leroy Cudjoe (Huddersfield), Gareth Ellis (Wests Tigers), James Graham (St Helens), Ryan Hall (Leeds), Chris Heighington (Wests Tigers), Ben Jones-Bishop (Leeds), Jamie Jones-Buchanan (Leeds), Danny McGuire (Leeds), Michael McIlorum (Wigan), Adrian Morley (Warrington), Jamie Peacock (Leeds, capt), Jack Reed (Brisbane), James Roby (St Helens), Kevin Sinfield (Leeds), Sam Tomkins (Wigan), Ben Westwood (Warrington), Gareth Widdop (Melbourne), Jon Wilkin (St Helens), Kirk Yeaman (Hull).