Dave Clark stands down as Barrow Raiders head coach
Last updated on .From the section Rugby League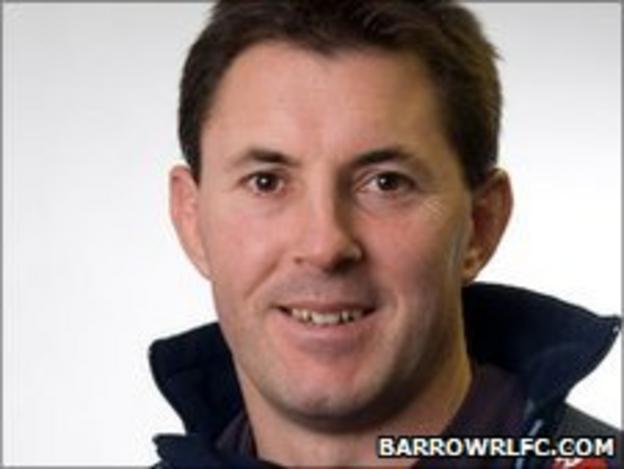 Dave Clark has resigned from his post as Barrow Raiders head coach following the club's relegation to Championship One earlier this month.
"I have been given a fantastic chance," said Clark.
"It should not only help me develop as a coach but also provide better future prospects and a clear career pathway."
As a player Clark made 136 appearances for the club, and was assistant at Craven Park before he became head coach in 2007 after Paul Crarey's departure.
In separate spells he led Raiders to promotion from National League One, and then to the Northern Rail and Championship Grand Finals, winning the latter against Halifax at Warrington in 2009.
However Raiders' recent points deduction and subsequent demotion means they will be starting next season in the bottom tier, while an eight-year ban from the sport for chairman Des Johnston - the club's major source of funding - has placed the club's future in some uncertainty.
"I have put many hours in for the Barrow club both as a coach and as a player before that," Clark added.
"The club will always be in my blood and the memories of what we achieved, particularly in winning the Championship Grand Final, will never fade.
"I would like to thank the fans of the great Barrow club for their support and encouragement during my various spells at the club.
"It was not an easy decision to take, far from it.
"Even if the club had not been suffering the difficulties it is at present I would have found it very difficult to turn down the wonderful opportunity that now awaits me."
Raiders, who had three coaches in one season in 2011 with Garry Schofield, Nigel Wright and Dave Clark, are now seeking their ninth head coach in four years.