Four Nations 2011: Rugby league needs England success - Gareth Ellis
Last updated on .From the section Rugby League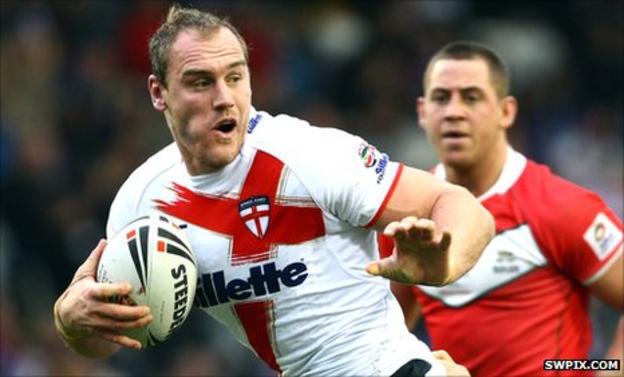 England's Gareth Ellis believes it will be a boost for rugby league as a whole if his team can win the Four Nations.
England play Australia at Wembley on Saturday, searching for their first victory over the Kangaroos since 1995.
"I think everyone is aware just how much the game is crying out for England to win a competition," he said.
"The international game is not as strong as it used to be, but a win would definitely give the fans something to be proud of."
New Zealand have twice upset Australia in recent major finals, snatching the last Four Nations tournament in 2010 and overcoming their Tasman rivals in the World Cup final in 2008.
But northern hemisphere rugby league has struggled to match the standards set in the south.
Great Britain recorded a 23-12 win Down Under in November 2006, but England have not tasted success over Australia since winning at Wembley in the opening match of the World Cup 16 years ago.
Wests Tigers' Ellis is one of several players in Steve McNamara's squad to ply their trade in Australia's National Rugby League and he is relishing fellow export Jack Reed's battle with Kangaroos' three-quarter Greg Inglis.
"It's a great challenge for Jack. He has been on fire, playing well week-in week-out for Brisbane and he's come up against some world-class centres and got one over on them," said Ellis.
"It's a great plus to have him on our side. I think he'll open a few eyes at the weekend."
Australia legend Mal Meninga, who suffered defeats at Wembley in 1990 and 1994, has warned present-day skipper Darren Lockyer about the dangers of complacency at the showpiece stadium.
"Nineteen ninety-four was Mal's final tour and it's a similar scenario with Darren, who is finishing up on this tour," explained Australia coach Tim Sheens.
"I rang Mal to ask him to come to talk to the guys before we left, but he couldn't make it so he rang Darren and talked about the fact that they turned up thinking they were pretty good.
"They thought they only had to turn up to win and they got smacked. It really is about respecting the game and respecting the team you are playing."