Barrow Raiders appoint Darren Holt as new head coach
Last updated on .From the section Rugby League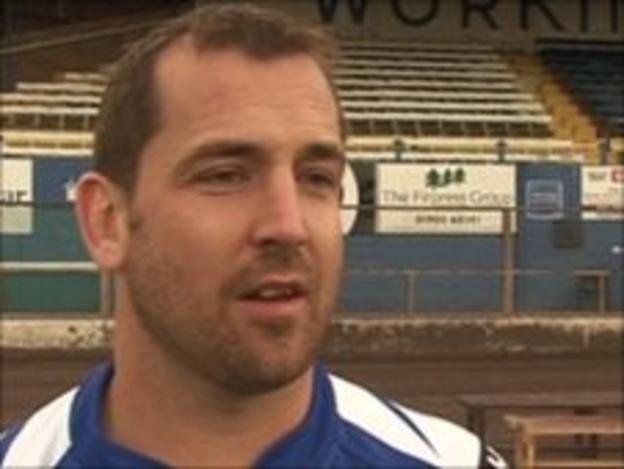 Barrow Raiders have appointed former player Darren Holt as their new head coach following Dave Clark's departure last month.
Holt, 35, who played for all three Cumbrian clubs - Barrow, Whitehaven and Workington - has enlisted Phil Atkinson as his assistant.
"There wasn't a decision to make," Holt told BBC Radio Cumbria.
"I played most of my rugby here, my heart has always been here, I never had any hesitation in accepting."
after a points deduction for a breach of the salary cap.
The new duo will have a rebuilding job to begin at Craven Park following those difficulties which struck at the end of last season.
In addition the bulk of the squad left as the club restructured at boardroom level, but Holt is confident of accumulating a player pool in time for pre-season.
"Everyone knows the situation the club finds itself in at the moment.
"Patience is the key with the ongoings, but we're in a position now, as the board have taken their time getting things organised, through mediation and discussion to start talking to players.
"In conjunction with myself and Phil we'll decide who we're looking for and what we're looking for.
"I'm very confident that come the start of pre-season we'll have a competitive squad to look forward to the new season."
Holt and Atkinson are familiar faces at Barrow, having played more than 600 games between them.
As coaches, they are a departure from recent high-profile appointments in the shape of Garry Schofield and Steve McCormack, suggesting a different approach.
"Darren is a legend here, served two terms and Phil was an absolute stalwart of this club for 14 seasons," director Mike Sunderland said.
"What we want to achieve is establish the relationship between Barrow and the local amateur clubs.
"There has been animosity between the two factions, and we feel that appointing two likeable, local coaches we can bridge that gap and become a community club."
Last season Holt helped Workington Town to the Championship One play-off final as a player, and also represented the Cumbria side that faced England Knights last month.
"I had good year last year, and as long as I enjoy playing, and feel I can offer something," Holt said.
"It'll be up to Phil whether I'm flagging or not, but I am happy to keep on playing."