Four Nations 2011: McNamara believes referee was 'influenced'
Last updated on .From the section Rugby League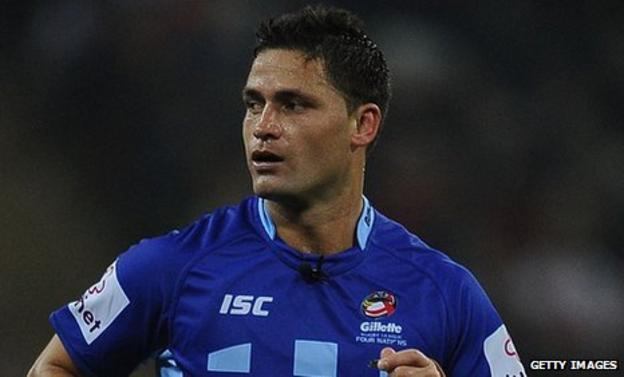 Steve McNamara believes referee Henry Perenara was influenced by comments from Australia boss Tim Sheens after his England side lost 36-20 at Wembley.
The Kiwi decided not to send Australia forward Tony Williams off for a high tackle and disallowed a Tom Briscoe try.
Sheens had criticised the officials after Australia's win over New Zealand.
McNamara said: "I am really disappointed at how the game was officiated and how the game has been influenced and I think it's wrong."
Australia's win did come at a cost though as full-back Billy Slater suffered a fractured collarbone which will rule him out of the rest of the tournament.
The loss of Slater was a major blow for Australia as England started the game well. McNamara's men were enjoying a strong spell in the second half when two of Perenara's decisions went against them.
Briscoe's try was ruled out for a double movement infringement, just after Williams had escaped a red card for his tackle on Ben Westwood.
The England coach added: "We get called 'whingeing poms' but we just came to do our business.
"That [double movement call] was a wrong decision, as I believe was the decision not to send off Tony Williams.
"I think that was a dead-cert red card, no doubt about it and they came on the back of each other.
"We would never ever use the officials as a reason as to why we never won that game this week.
"But the other influence at the start of the week, by the Australian team, Tim Sheens and the rest of his staff."
When asked to elaborate, McNamara, sitting next to captain Jamie Peacock at the post-match press conference, added: "We should be talking about the exploits of people like Jamie and some of the outstanding rugby league players that are in our country at this moment in time.
"But last week all we were speaking about was the referee and how the game was going to be refereed.
"That put a lot of pressure on the guy who was in the middle and I felt he could have dealt with that in a better manner, simple as."
Speaking about the Briscoe decision, England's Sam Tomkins added: "That is a crucial decision. There is no reason, when you've got a big screen, not to go to it."
Australia coach Sheens denied the accusation of influencing the referee, claiming that all he had done was criticise English official Phil Bentham after his performance in the Kangaroos' win over New Zealand last week.
Discussing the win over England, Sheens said: "I think there were a few controversial decisions but, at the end of the day, I think the players decided the game.
"I didn't talk about the referee at all. I spoke after last week's game that I was disappointed in that particular game.
"I have said nothing in that respect about this week's game."
The result means that England need to avoid defeat against New Zealand in the sides' final group game on Saturday in Hull if they are to reach the final against Australia at Elland Road.
McNamara added: "We have to play very well next week and hope the KC Stadium will be packed to the rafters.
"I think there are good aspects but we could have done better. We gathered a bit of momentum at times and then suddenly let them off the hook."
If England get through to the final, they will face an Australia side who will miss Slater, the newly-crowned international player of year.
Sheens said: "He has gone to hospital for surgery. It is fairly badly fractured.
"He will have surgery tonight or tomorrow [Sunday]. I don't know if he'll want to go home or stay with us for the rest of the tour."