Welsh rugby league mourns Phil Melling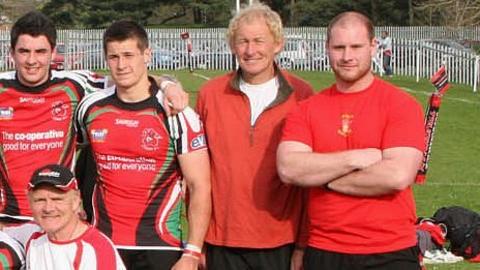 Dr Philip Melling, a stalwart of rugby league in Wales, has died at the age of 64 after a long fight against cancer.
He taught American Studies at Swansea University and established a rugby league club there in the late 1970s, bringing flair and passion to both.
Melling became the first chairman of the Welsh Amateur Rugby League and helped launch a Welsh Students side.
Under his guidance and Clive Griffith's coaching Wales won the Student European Championships for five years in a row.
Born in Wigan in 1947, the son of a miner, Melling moved to Swansea in the late 1970s after attending University of Manchester and University of Indiana, and was responsible for much of the development of the game in south Wales.
The regrowth of rugby league in Wales was often at odds with the 15-a-side code and Melling's hard work helped ensure the use of pitches and coverage in newspapers.
In addition to his work in Wales, he also managed the Great Britain student team in 1990 and acted as an adviser to the Lebanon team in the 2000 Rugby League World Cup.
Melling, who remained a Wigan supporter, also wrote and contributed to books about rugby league and was a key figure in efforts in the 80s to persuade the rugby union authorities to open a free gangway between the codes.
As well as his academic works he was also a playwright of great skill, writing a number of plays of which the best known was 'Hotel Vietnam' (1995).
Griffiths, head coach of the Wales national side between 1991-2000 and who has again coached the Wales Students side for the past three seasons, said: "Wales lost a great stalwart today.
"It's a sad day for his family and friends and for the game as well. Phil single-handily reintroduced domestic rugby league to Wales in the late 1970s.
"It became his passion. He combined his hours of work as a lecturer at Swansea University with getting rugby league off the ground and keeping the Swansea University team afloat.
"Phil brought numerous players into the game and through the ranks and we'll always be grateful to him for that.
"He was manager of the Wales Students team on a number of occasions, manager of the Great Britain students side at one point and vice-chairman of Wales Rugby League so his involvement in the historic stages of development cannot be underestimated.
"He single-handedly introduced the student game into Wales in the bad old days when it wasn't meant to happen.
"He'll be sorely missed. He wasn't just a great man of rugby league, he was a great friend to me and many others - a real gentleman. Any problems or advice I needed I could always get on the phone to Phil - I could always confide in him."