Head coach Matt Parish leaves Salford City Reds
Last updated on .From the section Rugby League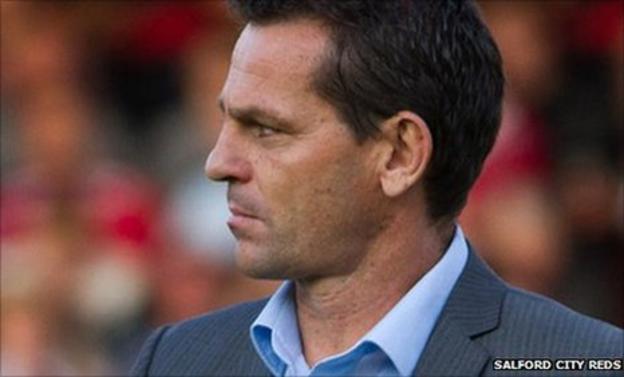 Matt Parish has resigned from his position as head coach of Salford City Reds for personal reasons.
He is expected to return to his native Australia and take up an assistant position at Manly Sea Eagles.
Parish had previously voiced concerns about changes that need to be made at the club ahead of their move into a new stadium at Barton.
A statement on the club website said: "Matt leaves the club in a much stronger position than he found it on the field, with what the club believes to be one of the strongest and most innovative coaching set-ups in Super League.
"Everyone at the club would like to thank Matt for his efforts whilst at the Reds, and we wish him well in his future coaching career.
"Matt would like us to pass on his thanks and appreciation to the Reds fans for their fantastic support during his time in England, and to the players and coaching staff for their hard work and dedication."
The Australian joined from New South Wales, where he was assistant coach, to take over from Phil Veivers, who had been in caretaker charge since the departure of Shaun McRae.
Salford chairman John Wilkinson had targeted a coach for the long-term when appointing Parish, but will now begin the search for a new head coach as they move into their new home.
And director of football Steve Simms told BBC Radio Manchester they had not expected to be starting such a search so soon.
"It's a total surprise," he said. "Everyone at the club is surprised and shocked as he's just come back from Australia a couple of weeks ago and we thought everything was fine.
"Obviously he's got personal reasons and personal stuff back at home and sometimes that is more important than other things.
"It's better it's happened now as it gives us an opportunity to put someone in very quickly.
"The coaches and players here know what is happening and it's just tweaking a few things so they can get on with the job of preparing themselves for the start of Super League."